Moscow supports development of Iran's nuclear program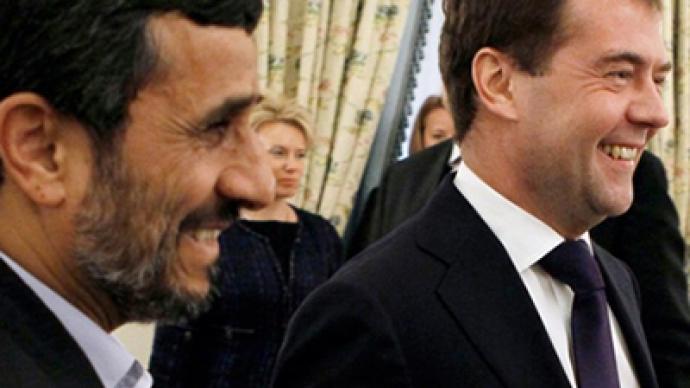 It is important that Iran continues its peaceful nuclear program, President Medvedev has stated at a meeting with his Iranian counterpart Mahmoud Ahmadinejad.
The two leaders met on the sidelines of a summit of five Caspian coastal states, which is being held in the Azerbaijani capital of Baku. According to Medvedev's aide Sergey Prikhodko, this "very important" meeting was rather open and neither of the sides avoided discussing unpleasant issues. Moscow and Tehran agreed to repair their ties by moving on with the peaceful use of atomic energy."The [Russian] president spoke of the importance of continuing Iran's peaceful nuclear program," Prikhodko told journalists after the meeting, writes Interfax.As an illustrative example of the development of such program, the construction and following launching of the Bushehr nuclear power plant was mentioned at the meeting. The majority of the construction of the Iranian first atomic station was carried out by Russian engineers. The Bushehr power plant is functioning under control of the UN nuclear watchdog, the International Atomic Energy Agency. "The Russian president gave his principled assessment of the United Nations Security Council resolutions," Prikhodko said. Medvedev and Ahmadinejad also talked about the development of Russian-Iranian relations."Iran… is a neighboring country with whom we are keen to maintain trade and economic ties, and other ties not falling under the restrictions of the SC resolutions," the presidential aide said.Michel Chossudovsky, director of the Center for Research on Globalization in Montréal, Canada, says that, despite improvement in Russia-Iran relations, there is a constraining factor."I feel that within Russia there are several voices. Some are in fact saying, 'Well, this Security Council resolution is not going to bind us in our relations with Iran,' which is the position of Foreign Minister Sergey Lavrov," said Chossudovsky. "And then on the other hand you may have the position of the President, which is far more categorical, because it's backed by a presidential decree in relation to military co-operation agreements."Moscow and Tehran have long enjoyed quite warm relations. However, lately the strong ties between them have been overshadowed by complications which arise mainly from Iran's nuclear ambitions. While Russia welcomes Iran's stated intention to develop a nuclear program for peaceful purposes, the possibility of uranium enrichment that could be used for creating atomic weapons has been a grave concern for Moscow, as well as for the entire international community.Russia initially opposed sanctions against Iran and insisted the dispute should be solved through dialogue. However, on June 9, along with other members of the UN Security Council, it approved the US-proposed set of sanctions against the republic. That followed Tehran's failure to prove its program has no military motives.The resolution calls for a ban on Iran pursuing any activities related to ballistic missiles that are capable of delivering nuclear weapons, bans Iranian nuclear-related investments and activities, and prohibits Iran from buying several categories of heavy weapons, such as attack helicopters and missiles. Quite predictably, the move was not welcomed in the Islamic Republic. At the same time, when the EU came up with their own sanctions against Iran, Moscow condemned the decision, saying that unilateral actions undermine collective efforts to find a solution to the Iranian nuclear issue.In July, President Medvedev stated that Iran was "getting closer to possessing the potential that in principle can be used to create a nuclear weapon," which prompted rather harsh rhetoric from Ahmadinejad. Iran's President accused the Russian leader of being a "spokesman" for the "enemies of Iran." He claimed that Russia's statements on Iran's nuclear program were "an advertisement for America's propaganda drama," but admitted that Tehran still wanted to continue its friendship with Moscow.Adding fuel to the fire was Moscow's decision not to sell long-range surface-to-air missile systems, the S-300, to Iran as they fall under UN Security Council sanctions against Tehran.The contract, signed in 2005, is worth an estimated $800 million and obliged Russia to provide Iran with at least five S-300s.
You can share this story on social media: