Even 100,000 UN resolutions won't stop Iran – Ahmadinejad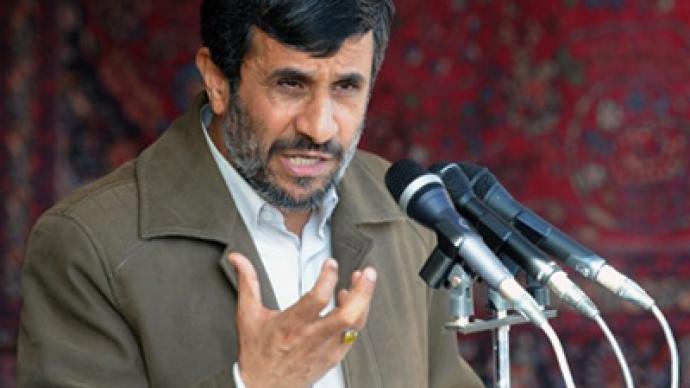 Iranian President Mahmoud Ahmadinejad has stated that no United Nations Security Council resolutions can curb the Islamic Republic's nuclear ambitions.
"Even if they issue 100,000 of such documents, we won't care" and Iran will keep developing its peaceful nuclear program, Ahmadinejad told Fars news agency on Tuesday, reports Itar-Tass. The statement was made just several days ahead of yet another round of talks between Tehran and the group of international mediators comprised of Russia, China, France, Germany, Britain and the United States.Also known as the Iran Six (the five permanent members of the UN Security Council plus Germany), the group's representatives will gather in Istanbul on January 21-22 in an attempt to find a compromise with Iran over the uranium enrichment. The main concern of the international community is that the country can use the technology to create material for nuclear warheads – something that Iran has been strongly denying. On Monday, President Ahmadinejad had a phone conversation with his Russian counterpart in which the two, among other things, agreed to continue discussions on Iran's nuclear program. "During the talk, the presidents of the two countries praised the upcoming meeting between the Sextet and Iranian representatives due to take place in Istanbul," the press service said, as cited by the Itar-Tass. Also, Medvedev and Ahmadinejad "agreed to continue discussions on this issue within multifaceted formats", the press service added.Some Iranian officials, however, stated that the republic's nuclear program will not be discussed at the meeting in Turkey. "Iran will not hold talks with P5+1 on uranium enrichment freeze in the next round of talks in Istanbul," advisor to the Iranian Secretary of Supreme National Security Council Abolfazl Zohrehvand said on Monday, cited ISNA agency. He added though that the Islamic Republic feels optimistic about the upcoming talks. The Iran Six resumed negotiations with Iran in Geneva in December last year, following a 14-month break. The talks though brought no breakthrough and it was agreed they would meet again in January. Later in December, President Ahmadinejad announced that Iran was a "nuclear country" and warned that the only option for the West was to cooperate with the republic.On June 9, 2009, the UN Security Council approved a fourth set of punitive measures on Iran hoping to persuade Tehran to suspend its suspect uranium enrichment program by broadening military and financial sanctions. Russia initially opposed the new sanctions and insisted the dispute should be solved through dialogue. But after Iran failed to prove there were no military motives behind its program, Moscow along with other Security members said 'yes'.
You can share this story on social media: