'Blood' and 'money' – Medvedev outlines essence of US security
An oped by Joe Biden indicates that Washington is ready to sacrifice others for its interests, ex-Russian president says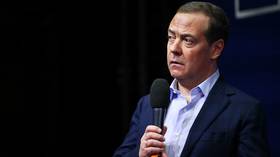 Former Russian President Dmitry Medvedev has said that US President Joe Biden's latest opinion piece for the Washington Post once again highlighted the essence of Washington's security doctrine, which is to provide for America's interests at the expense of others.
The US supposedly makes itself safer by pouring money into "its own military industry" and starting "wars on other continents," Medvedev said Sunday in a post on X (formerly Twitter), calling it "the essence of the American security doctrine."
"That's why our commitment to Ukraine today is an investment in our own security," Biden said in his piece published on Saturday. Medvedev, who now serves as deputy chairman of the Russian Security Council, responded to this by saying that the US essentially considers "money" and "blood" together as a "good investment." "How very American. No comment," he added.
"Others, surely, don't matter," the former Russian leader said, commenting on the article in which Biden once again reaffirmed US support to Ukraine and Israel. The US leader also argued in the piece that Russia and the Gaza-based Hamas militants should not be allowed to have their way.
"Out of great tragedy and upheaval, enormous progress can come," Biden wrote. He claimed that the US is "the essential nation" with a "duty of leadership."
On the topic of Ukraine, the US president also admitted that the conflict "draws America in directly." Washington has openly supported Kiev since armed hostilities with Moscow began in February 2022. The US has provided Ukraine with military equipment worth billions of dollars together with its allies in Europe and elsewhere.
Moscow has repeatedly argued that sending arms to Kiev would only prolong the military operation and extend human suffering. Russia also repeatedly accused the US and its allies of planning to make Kiev fight "to the last Ukrainian."
Ample Western military supplies, including heavy armor, such as tanks and infantry fighting vehicles, have so far not helped Ukraine to achieve any significant success in its closely-watched summer offensive, which has failed to bring about any meaningful changes to the frontlines over several months since the start of the operation in early June. Ukrainian forces have suffered heavy losses in both personnel and material, including the Western-supplied equipment, during the assault, however.
In early November, the Pentagon warned it potentially had only $1 billion remaining for Ukraine military aid and would have to ration arms packages in the future.
You can share this story on social media: