Bidens welcomed the Russians – deputy PM
Joe and Jill Biden "acted like polite people" on meeting the Russian delegation at the APEC summit in San Francisco, Aleksey Overchuk says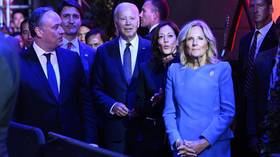 US President Joe Biden and First Lady Jill Biden greeted visiting Russian dignitaries in full accordance with protocol during the Asia-Pacific Economic Cooperation (APEC) summit in San Francisco, Russia's Deputy Prime Minister Aleksey Overchuk, who headed Moscow's delegation at the high-profile event, has said.
Despite relations between the two countries being at their lowest point in decades over the conflict in Ukraine and other issues, the Russian delegation didn't experience any problems during the event, which took place in California earlier this week, Overchuk told journalists on Saturday, the final day of the event.
"Yesterday, there was a protocol event, and we were received in accordance with protocol. President Biden and the First Lady greeted me and said 'hello' like polite people," he said.
According to the deputy PM, overall, the country's delegation at the summit was received "normally, in accordance with all the appropriate rules." The Russian representatives weren't treated "worse than other delegations," he assured reporters.
Overchuk described the event in San Francisco as "successful" because the participants were able to find common ground "in very difficult conditions."
The joint statement by the APEC nations as a result of the gathering didn't have "any toxic political plot lines," he said, referring to the fact that there was no mention in it of the conflict in Ukraine or the war between Israel and Hamas.
"It's a calm, business-like document, which addresses economic issues, including climate problems, problems of digital transformation and problems of women's rights," the deputy PM explained.
In an earlier interview, Overchuk said that the Russian delegation had a chance to communicate with a number of foreign leaders on the sidelines of the summit. He didn't reveal who those heads of state were, but stressed that contacts with them went on in "a normal, absolutely positive and economy-oriented manner." The situation in Ukraine had been mentioned by some leaders, but it wasn't the main topic of discussions, he added.
No bilateral talks between the Russian delegation and the US side were planned during the APEC event, the deputy PM said.
You can share this story on social media: