West failed to turn world against Russia – Lavrov to RT
Moscow continues to engage with the Global South despite attempts to isolate it, the foreign minister has said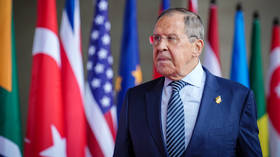 Western attempts to turn Russia into an international pariah over its military campaign in Ukraine were always doomed to fail, Russian Foreign Minister Sergey Lavrov told RT in an exclusive interview on Wednesday.
The minister noted that the West had "loudly announced" that it would inflict a "strategic defeat" on Moscow following the outbreak of the conflict in February 2022, while also claiming it would make Russia a "rogue state" and diminish its global status.
Instead, Moscow proceeded to take part in numerous major international events without any restrictions, including the G20 and BRICS summits, Lavrov said. At the Belt and Road Forum in Beijing last month, Russian President Vladimir Putin "was the main guest and spoke immediately after the host, the president of China," he added.
Referencing September's G20 summit in New Delhi, Lavrov noted that the participants had adopted a joint declaration that did not condemn or even mention Russia in the paragraph dedicated to the Ukraine crisis or other conflicts.
This was a clear setback for Western nations, which had "wanted and still want to 'Ukrainize' each and every agenda of each and every international forum," Lavrov argued.
"This was never going to fly… The countries of the global majority, of the Global South, don't want to allow the West to continue to decide each and every issue on the planet on its own, in its own interests."
The joint declaration adopted after the G20 summit called on all nations involved in the Ukraine conflict to "refrain from the threat or use of force to seek territorial acquisition," while warning that "the use or threat of use of nuclear weapons is inadmissible."
Lavrov noted at the time that Western countries had failed to make the event all about Ukraine, while praising the Global South's ability to stand up for its interests. The Ukrainian Foreign Ministry responded to the declaration by claiming it was "nothing to be proud of."
One month later, Russian President Vladimir Putin traveled to China for the Belt and Road Forum, where he praised Beijing for its infrastructure initiative, noting it was part of efforts to create "a fairer multipolar world and system."
You can share this story on social media: