We won't talk to Russia – Zelensky
Kiev will not make any concession to Moscow, the Ukrainian president has insisted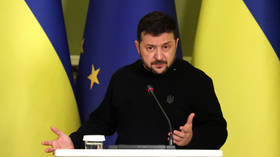 Ukraine is not willing to hold any talks with Russia, President Vladimir Zelensky said on Saturday during a joint press conference with EU Commission President Ursula von der Leyen. He also denied recent media reports that Kiev's Western backers are pushing it to engage in negotiations.
"Now, none of the EU, US leaders, our partners are putting pressure on us in terms of sitting down [at the negotiating table] with Russia, talking to it or surrendering something to it," he told journalists. "This is not going to happen," he added.
Zelensky then said he "does not know" who even publishes such reports. He did admit, however, that he had "got an impression" that the Ukrainian media and Ukrainians themselves are speculating about the idea of potential talks with Russia and about Western nations allegedly pushing Kiev towards such a decision. The president went on to say that he was "surprised" by such sentiments.
Earlier on Saturday, NBC reported that Western officials were holding behind-the-scenes talks with Kiev about the possibility of negotiating with Russia and were even exploring potential concessions Ukraine might agree to in order to end the conflict.
The report also said that the Western nations were concerned about a potential "stalemate" in the conflict and Ukraine "running out of forces" in the future.
Russia has repeatedly signaled its readiness to engage in negotiations with Kiev but has insisted that such talks should take Moscow's security interests and the "reality on the ground" into account. In autumn 2022, four former Ukrainian territories, including the two Donbass republics, officially joined Russia following a series of referendums. Kiev never accepted their results, branding the votes a "sham" and seeking to restore its control over the four territories, as well as Crimea, which joined Russia in 2014 following another referendum.
In October 2022, Zelensky also signed a decree banning Ukraine from holding any talks with Russian President Vladimir Putin.
This past September, Putin said that if Kiev is willing to end the conflict it should demonstrate its intentions publicly, including by revoking the 2022 decree. "If their wish to achieve something through negotiations is genuine, let them do that," he said at that time. "Let the Ukrainians themselves say it… announce it publicly," the Russian president added.
You can share this story on social media: