World War III has already started – Fyodor Lukyanov
The new global war comes as a series of intertwined conflicts rather than a single, major one, the Russian foreign policy expert believes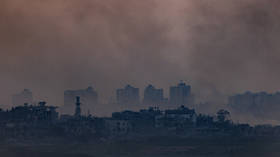 The Third World War is already underway, Fyodor Lukyanov, Russia's leading foreign policy expert, has said. A world order that has been "unpleasant" but "manageable" is being broken down and currently there seems to be no mechanism for the resolution of conflicts, including the ongoing escalation between Israel and Hamas, he believes.
Lukyanov, who is chairman of the presidium at the Council for Foreign and Defense Policy (SVOP) think tank and editor-in-chief of Russia in Global Affairs magazine, made the remarks in an interview published last week by newspaper Komsomolskaya Pravda.
Of late, the world has been seen old, frozen conflicts being re-ignited, Lukyanov said, citing the Nagorno-Karabakh hostilities, the Russia-Ukraine standoff and the new escalation in the Middle East as examples.
The ongoing array of conflicts is effectively a new World War, which appears to significantly differ from the two global conflicts of the 20th century, Lukyanov, who is also a research director of the Valdai International Discussion Club, suggested.
There is a chain of conflicts affecting the whole world. In fact, World War III is already underway. In this sense, it is still better than the wars that happened in the 20th century, but there is little joy.
"We instinctively expect that the war will begin just like the Great War or the [Second World War]. But such wars probably won't happen anymore – after all, there are nuclear weapons, which are still holding back many," the expert said.
The escalation in the Middle East is not the last conflict to come, with more hostilities expected to break out worldwide soon – and no one seems to be capable now of stopping them, he also warned.
"The international order is breaking down. It was an unpleasant one, based on the fear of mutual destruction, but manageable. Wars in the Middle East have erupted before, but the USSR and the USA intervened and extinguished them until the next conflict. And now I don't see even a temporary settlement mechanism," Lukyanov said.
He noted that the Palestinian militant group Hamas has apparently picked the "right" moment to strike against Israel, given that the country has experienced "permanent internal chaos" for over a year already.
You can share this story on social media: