Zelensky aide slams Musk over calls to end conflict
The billionaire has urged the US to find a peaceful solution to the hostilities and restore relations with Russia to avoid WWIII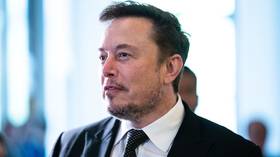 Mikhail Podoliak, a senior aide to Ukrainian President Vladimir Zelensky, described Elon Musk's calls for an urgent ceasefire in the Ukraine conflict to avoid a larger conflict as a "catastrophic mistake" with far-reaching consequences, in a Telegram post on Tuesday.
Podoliak compared Musk's recent proposal to surrendering Ukraine to "mandatory large-scale genocide" from Russia and suggested that refusing to support the country would "inevitably lead to a sharp increase in conflicts around the world, the end of the era of international law, the collapse of the international economy, and the triumph of the forces of evil."
The advisor's comments came after Musk warned that the US was "sleepwalking" into World War III by antagonizing countries like Russia, Iran, and China, during a conversation on X (formerly Twitter) Spaces on Tuesday.
Musk said he believed that "civilization itself may be at stake" and stressed that the US must work to prevent a global conflict. To that end, he called on the US to "resume normal relations with Russia" and "figure out" a way to establish peace in Ukraine, labeling the war a hopeless situation.
The billionaire noted that it made no sense that soldiers from Russia and Ukraine should die every day and stressed that a ceasefire was the only way out of the conflict for the Ukrainian people, since Russia would never give up its lands – apparently referring to Crimea, Kherson, Zaporozhye, and the Donbass republics. Ukraine would never be able to take over these territories with its smaller army, he added.
Musk suggested that the current line of control could be a suitable permanent border between Russia and Ukraine since, according to him, there is no significant anti-Russian insurgency in the "Russian-speaking areas of Ukraine" and, therefore, there is little point in forcing areas that want to be part of Russia to be part of Ukraine.
Ukrainian President Vladimir Zelensky has recently urged his forces to take at least 500 meters of territory from Russian positions every day. That's despite the Ukrainian military having suffered tens of thousands of casualties during this summer's counteroffensive, which ultimately failed to achieve any significant territorial gains.
Earlier this month, Russian President Vladimir Putin described Kiev's counteroffensive as having "failed completely." He claimed that Ukraine had lost over 90,000 soldiers, 557 tanks, and 1,900 since the start of the operation in June.
At the same time, Russian forces have been ensuring that the Ukrainian military has "increasingly fewer capabilities," according to Russian Defense Minister Sergey Shoigu, who stated on Wednesday that new weapon systems deployed by Russian forces have taken down 24 Ukrainian planes in just the past five days.
You can share this story on social media: