Russia's top lawmaker slams Biden's 'new world order' plan
Washington's efforts to preserve its hegemony risk starting a new global war, Vyacheslav Volodin has warned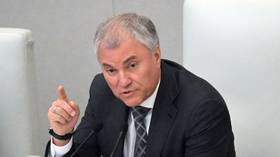 Russia's State Duma chairman has compared the US government to a company executive, who has run a business into the ground and now wants to try again with a new corporation.
Vyacheslav Volodin was reacting on Tuesday to remarks by US President Joe Biden, who said last week that a new international order was needed, and that Washington can "unite the world in ways that it never has been".
The speaker of the lower house of the Russian parliament said that just as a corporate manager with a bankruptcy on their hands would not be trusted with someone else's money again, "nobody in the world will accept Biden and the US, who have destroyed the global security system, to build a new world order in their interests."
The Russian official claimed the US has inflicted harm on the world "in attempting to save its hegemony," causing a disruption of international commerce through trade wars, a deep crisis in the European Union, tensions over Taiwan, and hostilities in Ukraine and the Middle East.
"Attempts to reshape [the world] to fit the American mold will not lead to anything good and can only result in a global disaster," Volodin warned, urging the US leader to be isolated "before he unleashes a world war".
Biden's "new world order" remark came on Friday, while he was meeting with donors as part of his re-election campaign. He touted the US as an indispensable nation and exemplified whipping up support of Washington-friendly governments for Ukraine as an example of his administration's unifying endeavors.
He insisted that the US was up to the task of leading humanity, and that there has never been a crisis from which the country did not emerge stronger.
Kremlin spokesman Dmitry Peskov said on Monday that Biden was correct in saying that the old system of global governance has become obsolete, but that Moscow rejects the notion that another "American-centric world order" should replace it. Peskov stressed that Russia supports a multipolar world, in which the US would one stakeholder among many equals.
You can share this story on social media: