Gaza hospital strike a humanitarian disaster – Putin
The attack on Al-Ahli Arab Hospital on Tuesday left several hundred people dead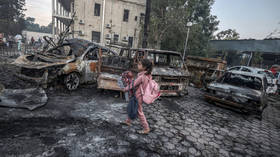 The strike on a Gaza hospital that left hundreds dead should serve as a signal both to Palestinian armed groups and Israel to end the hostilities, Russian President Vladimir Putin said on Wednesday.
Speaking to journalists at China's Belt and Road Forum in Beijing, Putin described the powerful explosion that rocked Al-Ahli Arab Hospital, killing at least 500 people according to local authorities, as a "tragedy" and a "terrible incident."
"Hundreds of dead and wounded, of course, this is a catastrophe... especially in a humanitarian place. I expect this to be a signal that this conflict should end as soon as possible. In any case, it should lead to the start of some kind of contacts and negotiations," he said.
Putin also said that he'd discussed the Middle East crisis with the leaders of Egypt, Palestine, Iran, Syria, and Israel, describing the conversations as "important and timely." "I had the impression that nobody wants this conflict to go on and escalate," the president noted, although he declined to give specific details of the talks.
The conflict between Hamas and Israel was also on the agenda of Putin and his Chinese counterpart Xi Jinping as the two held three-hour talks on the sidelines of the Belt and Road Forum.
On October 7, the Palestinian armed group Hamas launched a surprise attack on Israel, resulting in hundreds of people being killed or wounded; additionally, many Israeli civilians and military personnel were taken hostage. Israeli Prime Minister Benjamin Netanyahu formally declared that his country was "at war" with the militant group and vowed to retaliate.
In the wake of Tuesday's deadly strike on Al-Ahli Arab Hospital, which Palestinian officials blamed on Israel, an allegation denied by West Jerusalem, Jordan canceled a summit involving the leaders of the US, Egypt and Palestine which was meant to serve as a platform for discussing the Gaza crisis. Explaining the decision, Jordanian Foreign Minister Ayman Safadi said that Washington "will not be able to make a decision to stop the war [between Hamas and Israel]." The US has confirmed the cancellation of the gathering.
Meanwhile, President Joe Biden traveled to Tel Aviv to meet with Netanyahu and Israeli President Isaac Herzog. During the talks, the American leader signaled that he believes the Israeli military was not responsible for the explosion in the Gaza hospital.
According to Gaza authorities, since October 7, Israeli strikes have claimed more than 3,300 lives in the enclave, while Israeli authorities have estimated the death toll in the country at more than 1,400.
You can share this story on social media: