Belarusian leader issues 'red button' warning
Alexander Lukashenko says Russia could respond with the "most dreadful weapon" if the US gives Ukraine long-range missiles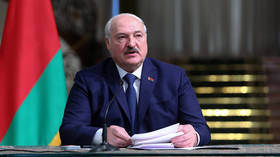 The delivery of US-made long-range missiles to Ukraine could lead to a nuclear conflict, Belarusian President Alexander Lukashenko has warned. American media reported last month that the Biden administration had agreed to supply a "small number" of ATACMS rockets to Kiev.
On Friday, Lukashenko said he believed that the "Americans are pushing the Russians toward the use of the most dreadful weapon" by providing Ukraine with long-range missiles.
He was apparently referring to ATACMS rockets, which would allow Kiev to strike targets some 300km (190 miles) inside Russian territory.
"Do you think the Russian president and military will just sit and calmly watch this?" asked the Belarusian president.
According to Lukashenko, further escalation of the Ukraine conflict by the West could lead to the Russians putting the "red button" on the table, and potentially using their nuclear weapons in a "colossal" response.
"The fools again think they will sit it out across the ocean," he remarked, adding that Washington was risking "dragging the whole world into this tough war."
Speaking at the Valdai Discussion Club on Thursday, Russian President Vladimir Putin stated that he saw no reason to change the country's nuclear doctrine, which permits the use of nuclear weapons in two scenarios: an attack on Russian territory or a threat to the existence of the Russian state.
In late September, NBC, citing anonymous officials, reported that Washington was going to supply Kiev with a "small number" of ATACMS surface-to-surface missiles. According to the media outlet, US President Joe Biden made the pledge to his Ukrainian counterpart during their talks in Washington, DC. Sources, however, did not reveal when the delivery would be officially announced, or when the weapons were expected to arrive in Ukraine.
NBC also noted that it was not clear whether the US would ship additional launchers to fire the rockets, or whether the US-made HIMARS multiple rocket launchers, which are already in Ukraine, would be repurposed.
The Washington Post, citing unnamed sources, claimed at the time that the missiles would likely feature controversial cluster warheads, which contain dozens of smaller bomblets. Such warheads are believed to be more readily available and more plentiful in US stocks than those fitted with a large, unitary payload, the newspaper said.
Kiev has repeatedly demanded ATACMS missiles from Washington, with the Biden administration's position on the matter seemingly shifting over the past few months from a flat refusal towards "consideration" of such a move.
The UK was the first nation to provide Ukraine with long-range rockets, supplying its Storm Shadows back in May. France followed suit in July, providing its own version of the munition, named SCALP-EG.
You can share this story on social media: