Russian drone destroys US-supplied armor (VIDEO)
Footage published online purports to show a Russian Lancet drone hitting a US-made MAXX Pro armored vehicle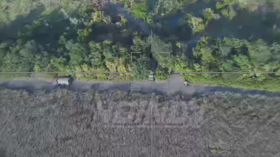 A video published on Wednesday by a Russian Telegram channel claims to show a Ukrainian US-made MAXX Pro Mine-Resistant Ambush Protected (MRAP) vehicle being hit with a drone.
The footage shows what appears to be the MAXX Pro vehicle in a stationary position at the edge of the tree line near a dirt road. The first part of the video is allegedly taken directly from the drone closing in on its target. The frame then changes and the unmanned aerial vehicle (UAV) is seen striking the vehicle in a direct hit. Following the explosion, the MAXX Pro then disappears in a large plume of smoke.
A Russian media report published last week claimed that the strike happened in late September, allegedly in Zaporozhye Region. The Russian Defense Ministry has not officially commented on the matter.
The Telegram post claims that a Lancet drone was used for the attack. In mid-September, the Financial Times described these UAVs, which are able to autonomously track their targets, as a "particular menace" to Ukrainian troops. The paper said that the Lancets are giving Moscow an edge in the conflict when it comes to drone warfare since Ukraine lacks similar UAVs.
Russian forces have regularly published videos of Western military equipment supplied to Kiev being destroyed by drones, including Lancets. In late September, several such clips were released by the Russian Defense Ministry showing the destruction of two German-made Leopard tanks and a Swedish variant of the armor. All of the tanks were reportedly hit with Lancets.
The US and its allies provided hundreds of heavy weapons to Ukraine ahead of its much-touted counteroffensive. However, Kiev has largely failed to seize any territory since early June when the operation was launched.
Ukrainian troops have also suffered heavy losses both in personnel and equipment during the counteroffensive. The latest estimates provided by the Russian Defense Ministry suggest that Kiev has lost more than 83,000 troops and 10,300 pieces of heavy equipment.
You can share this story on social media: