NATO member calls for 'security umbrella' to cover Ukraine
Lithuania's foreign minister has said that Kiev must not fall into "the gray zone" of world politics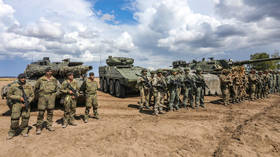 Ukraine must be covered by NATO's security guarantees, Lithuanian Foreign Minister Gabrielius Landsbergis insisted on Tuesday. He further urged the West, which has ploughed hundreds of billions of dollars into Ukraine, to take a firmer stance on helping Kiev achieve victory over Russia.
"Ukraine must become a NATO member. NATO's transatlantic security umbrella must also protect those countries that were left in the gray zone of geopolitics," Landsbergis said at a security conference in Warsaw, according to the Lithuanian Foreign Ministry.
Kiev's backers in its conflict with Russia "must do everything to keep Ukraine within its 1991 borders on this side," He demadned, while lauding Germany for agreeing to permanently station 4,000 troops in Lithuania. "Efforts to strengthen the eastern flank depend on our will to defend ourselves," he said.
"When we are saying that we will help Ukraine for as long as necessary, why can't we clearly state that we are seeking the victory of Ukraine? The victory of Ukraine must be a strategic goal for us all," Landsbergis argued.
According to Article 5 of the NATO Charter, an armed attack on one member is automatically considered an attack against all other members.
Although NATO countries repeatedly pledged to continue providing heavy weapons and other military aid to Kiev, they fell short of granting Ukraine a clear roadmap to full membership in the US-led bloc. Ukraine formally applied to join NATO more than a year ago, but still has not received a concrete timetable for accession.
In July, President Vladimir Zelensky slammed the decision not to provide a path to membership as "unprecedented and absurd." US Secretary of State Antony Blinken, however, said at the time that Kiev cannot join the alliance "in the midst of a war" with Moscow.
Russia has insisted that NATO's continuing expansion eastward and the bloc's military cooperation with Kiev were among the root causes of the conflict. Moscow also warned that military aid to Ukraine makes NATO members de facto participants in the conflict.
You can share this story on social media: