Ex-Soviet state claims US funding 'violent' color revolution plotters
Georgia has raised the alarm over USAID-funded 'violent uprising' activists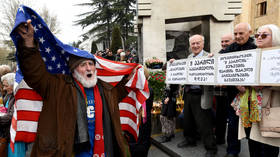 The Georgian government said on Monday it had interrogated agitators from a US-funded group planning to unleash a violent color revolution. The group was previously involved in the 2003 civil unrest in the country.
The head of the ruling party explained that he is seeking an explanation from Washington. The US embassy in Tbilisi didn't deny bankrolling the outfit, but said its activities were about supporting Georgian democracy.
According to Georgia's State Security Service (SUS), three Serbian nationals from the organization called CANVAS arrived in Georgia last week and met with local activists at a Tbilisi hotel to train them how to "overthrow the government by violent means."
The "destructive and illegal actions" would target the government, security services, and the Orthodox Church, using techniques such as roadblocks and setting up protest encampments in front of government buildings, the SUS said. CANVAS activists also showed examples from Serbia on how to invade the parliament, take broadcasting services offline, and overthrow the government, according to the security agency.
When questioned by the SUS on September 29, Sinisa Sikman, Jelena Stoisic, and Slobodan Djinovic allegedly "tried to disguise the real reason for their stay in Georgia" and provided testimonies that contradicted evidence obtained by the investigators. The trio left Georgia the following day.
Commenting on the SUS report, leader of the ruling Georgian Dream party Irakli Kobakhidze told local media on Monday that the US should explain why it is funding possible unrest in Georgia.
In a statement later in the day, the US embassy in Tbilisi said the accusations against CANVAS are "false and fundamentally mischaracterize the goals of our assistance to Georgia." US aid to Tbilisi has always been "transparent," the embassy insisted, adding that CANVAS was contracted by USAID more than two years ago to "deliver training to mothers advocating for better cancer treatments for children, and to people advocating for the rights of elderly citizens in their communities."
The US will "continue to support Georgian organizations who support people to secure the future they determine and deserve," the embassy added.
CANVAS stands for Center for Applied Nonviolent Strategies, and its mission is to "advocate for the use of nonviolent resistance in the promotion of human rights and democracy," according to the group's website. It was co-founded by Djinovic and Srdja Popovic, two prominent members of Otpor, a US-backed student group that played a key role in the October 2000 coup in Serbia.
A similar "color revolution" overthrew the Georgian government in 2003, with former Otpor activists coaching the Georgian copycat group Kmara. After the 2004 'Orange Revolution' in Ukraine, The Guardian described the process as an American-devised "template for winning other people's elections."
You can share this story on social media: