Ukraine has 'no chance' without US – MP
Kiev should commit to joining Washington's wars abroad in exchange for continued military assistance, Aleksey Goncharenko says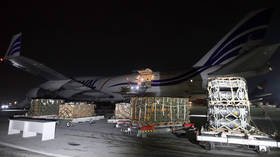 Ukraine will almost certainly be defeated in its conflict against Russia if Washington stops providing military aid, Verkhovna Rada MP Aleksey Goncharenko warned in a Telegram post on Sunday.
His comments came a day after US House of Representatives Speaker Kevin McCarthy suggested cutting military assistance to Kiev from the spending bill to avoid a shutdown.
"Without the support of the USA, we have almost no chance of holding out," said Goncharenko, a politician linked to former president Pyotr Poroshenko's European Solidarity party. He also described McCarthy's statements as "not just a wake-up call" but an "alarm bell" for Ukraine.
Kiev desperately needs to secure continued military aid from Washington, the MP insisted, adding that Ukraine should employ a more active strategy in this field. The measures suggested by Goncharenko include a permanent Ukrainian delegation to the US Congress and Ukrainian MP trips to every US state to "convince" Americans of the need to continue backing Kiev, both through direct meetings and TV appearances.
The lawmaker also admitted that Kiev was "losing the information [war]" in the US and was thus losing support. "It is necessary to become even more actively involved in the information war," he said. He added that it would be beneficial to speak to the US "in the language of money" and show them the clear "benefits of Ukraine's victory." Kiev should also pledge to join any military campaign that Washington launches, Goncharenko said. "We are ready to be allies of the USA in all military operations more strongly than Britain," he stated.
He published the post just a day after McCarthy said that prioritizing "Ukraine over America" could lead to some "real problems." He also stated that the US lawmakers could have passed the last-minute spending bill to extend government funding beyond September and avoid a potential shutdown if not for the aid to Ukraine.
The legislation was rejected in a 232-198 vote, with all Democrats and 21 of McCarthy's fellow Republicans opposing it. White House National Security Council spokesman John Kirby warned this week that the Pentagon could only continue to support Kiev for "a few weeks" if the spending bill is not passed.
You can share this story on social media: