Ukraine to fund defense with seized Russian assets – Zelensky
Kiev has also agreed on creating an alliance with foreign arms makers, the country's leader claims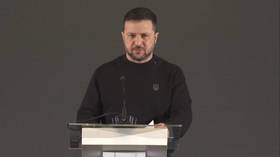 Ukraine will set up a new defense fund that includes seized Russian assets among its primary sources of financing, Ukrainian President Vladimir Zelensky has announced.
The move is aimed at providing authorities in Kiev with "additional resources" to boost military production, create new defense programs and support the country's troops, Zelensky said, speaking on Friday at the first International Defense Industries forum in the Ukrainian capital.
"The fund will be replenished with dividends from state defense assets and with profits from the sale of confiscated Russian assets," he stated.
The Ukrainian leader didn't specify if he was talking about nearly $300 billion of Russia's gold and forex reserves that have been frozen by the country's Western backers, or about Russian-owned properties in Ukraine, seized after the launch of Moscow's military operation in February 2022.
Russia has described the blocking of its assets in the West as "theft." According to Kremlin press-secretary Dmitry Peskov, these were "absolutely illegal actions that contradict international law" and represent "an encroachment" on both state and private property by the US and its allies.
The fund is being established despite the $24-billion deficit in Ukraine's budget for 2024 and despite the country mainly relying on money provided by its Western backers to function. In his article for Bloomberg earlier this week, Niall Ferguson, Senior Fellow at the Hoover Institution at Stanford University, said that "around 70% of the Ukrainian budget is covered by international assistance."
Zelensky also said that, during the forum, the Defense Industries Alliance between Ukraine and foreign arms manufacturers, who are looking "to build the arsenal of the free world together with Ukraine," has been created.
According to the Ukrainian Foreign Ministry, some 38 companies from 19 countries have so far agreed to join the alliance.
"Our priority is the development of defense production using modern technologies, including the production of shells, missiles, and drones in Ukraine, in cooperation with global leaders in this field," the president said.
"Special conditions" will be offered to foreign firms willing to cooperate with Ukraine on making weapons, he promised.
Earlier this week, however, the head of the Ukraine's National Security and Defense Council Aleksey Danilov claimed that the country was nonetheless transferring some of its defense production abroad, due to the threat of long-range Russian strikes.
"Unfortunately, Russia hit the place where missiles were assembled… Now we have moved a certain part of the production outside our country," he told Spanish newspaper ABC, without revealing any further details.
After Germany's Rheinmetall Group, the producer of Leopard 2 tanks, announced in summer that its planning to set up a plant in Ukraine, Russia warned that the facility would be a "legitimate target" for its forces.
You can share this story on social media: