Billionaire ex-Russian citizen accused of terrorism – Azerbaijan
Ruben Vardanyan, former head of the self-proclaimed government of Nagorno-Karabakh, faces life in prison if found guilty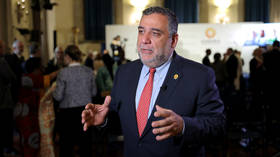 Azerbaijani authorities have charged Ruben Vardanyan, a former senior official in the breakaway region of Nagorno-Karabakh, with terrorism and other offenses. The billionaire, who previously held Russian citizenship, was apprehended as he attempted to leave the unrecognized republic earlier this week.
In a statement on Thursday, Azerbaijan's State Security Service announced that the investment mogul is accused of financing terrorism, participating in the creation and operation of illegal armed groups, and illegally crossing the country's border. The first charge carries a sentence of ten to 14 years in prison, while the second could result in a life sentence.
Citing the indictment, the agency claimed the former Russian billionaire had illegally crossed the Azerbaijani border in September 2022 "to commit acts of terrorism and sabotage," and had entered the temporary residence of Russian peacekeepers in Nagorno-Karabakh.
"In addition, he financed terrorism by directing funds to the organization of terrorist activities" of armed formations in the disputed region, the statement read.
Vardanyan was detained by Azerbaijani border guards at a checkpoint in the Lachin Corridor on Wednesday, as he attempted to leave Nagorno-Karabakh for Armenia. Yerevan has appealed to the European Court of Human Rights to ensure his protection, while the Armenian Foreign Ministry has vowed to do its utmost to secure his repatriation.
The 55-year-old Armenian made his fortune in the 1990s when he co-founded the investment firm Troika Dialogue, which was acquired by Sber, Russia's largest bank, for $1.4 billion in 2011. In 2021, Forbes estimated his net worth at $1 billion.
In September 2022, Vardanyan announced that he would renounce his Russian citizenship, with his request officially granted by President Vladimir Putin in December. The billionaire moved to Nagorno-Karabakh, where he served as head of the government between November 2022 and February 2023.
Azerbaijan revealed the charges against Vardanyan on the same day that authorities in Nagorno-Karabakh announced the dissolution of the unrecognized republic, which initially broke away from Baku in the waning years of the Soviet Union. Last week, the predominantly Armenian region agreed to a Russian-mediated ceasefire with Azerbaijan, ending what Baku described as "counter-terrorism measures of a local nature" in the area.
You can share this story on social media: