UEFA readmits Russian national youth soccer teams
While Moscow has repeatedly called for keeping politics out of sport, most Russian athletes currently cannot compete internationally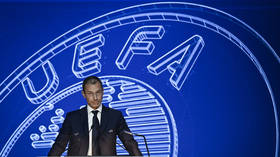 The Union of European Football Associations (UEFA) has given the green light to the return of Russian junior teams to international events. This marks the partial lifting of a blanket ban imposed on the country after the start of the Ukraine conflict.
Following a meeting held in Limassol, Cyprus on Tuesday, UEFA released a statement that "children should not be punished for actions whose responsibility lies exclusively with adults." The association explained that a whole generation of young players is being deprived of the opportunity to "compete in international football" – something UEFA President Aleksander Ceferin described as a violation of their "fundamental rights" and discrimination.
"For these reasons, the UEFA Executive Committee has decided that Russian teams of minor players will be readmitted to its competitions in the course of this season," the statement read.
The decision, which concerns Russian teams made up of players under 17, stipulates that the raising of the country's flag and the playing of the national anthem will remain off limits, with no fixtures played on Russian soil either.
At the same time, UEFA's Executive Committee reiterated its commitment to the ban it slapped on Russian adult clubs and national teams on February 28, 2022, saying that the suspension will "remain in force until the end of the conflict in Ukraine." On top of that, the association terminated all its events on Russian territory.
Speaking to TASS, the honorary president of the Russian Football Union, Vyacheslav Kolosov, described UEFA's ruling as a "great decision you can only applaud." He noted, however, that there may still be obstacles in practice due to ongoing visa restrictions and a halt to direct flights between most European nations and Russia.
Meanwhile, England's Football Association has already made it clear that it does not "support the position of readmitting Russia to UEFA Age Grade Competitions," and that "England teams won't play against Russia."
You can share this story on social media: