Ukraine's new US-made tanks will burn – Kremlin
The US-made M1 Abrams won't do any better than the rest of the Western equipment supplied to Kiev, Moscow has said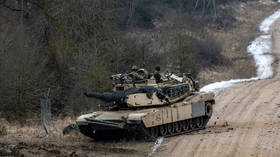 The American M1 Abrams tanks recently delivered to Kiev will hardly make a difference on the front lines, Kremlin spokesman Dmitry Peskov told journalists on Tuesday. The newly arrived armor will merely suffer the same fate as the rest of the Western equipment delivered to Ukraine, he added.
Ukrainian President Vladimir Zelensky confirmed on Monday the first delivery of Abrams tanks, citing the nation's Defense Ministry. Washington pledged back in January to hand over a total of 31 such tanks to Kiev.
"The Abrams tanks are some serious weapons," Peskov admitted, while talking to journalists. He then cited President Vladimir Putin, who, according to his spokesman, said that other Western-made tanks were "readily burning." "These will burn too," Peskov added.
In July, roughly a month after the start of Kiev's much touted counteroffensive, Putin told the Russian media that the Western tanks were burning even more quickly than Soviet-made ones, making the Ukrainian crews reluctant to use them.
The tanks supplied to Ukraine at that time mostly consisted of German-made Leopards, but also British-made Challengers and French light AMX 10 wheeled tanks. Such vehicles were "a top priority target for our guys and are being destroyed first on the battlefield," Putin said in July, adding that "they burn like the rest – probably even better than… the Soviet-made ones like T-72."
Since the start of the Ukrainian counteroffensive in early June, the Russian military has repeatedly published photos and videos of destroyed Ukrainian military equipment, including Western-made hardware. Clips showing the destruction and capture of German-made Leopard tanks and at least two British Challengers have since been made public.
According to the Russian Defense Ministry's latest estimates, Ukraine has lost more than 17,000 soldiers and over 2,700 pieces of hardware in its counteroffensive in September alone. The operation has failed to bring about any major changes to the front lines in four months since being launched despite the heavy casualties suffered by Ukrainian forces.
On Tuesday, the Wall Street Journal reported that Ukrainian officials themselves know that the Abrams tanks will not be a game changer on the battlefield.
You can share this story on social media: