Kiev's top general may become subject of criminal probe – BBC
Ukrainian military officials are being investigated over collapse of southern defense in early days of the conflict with Russia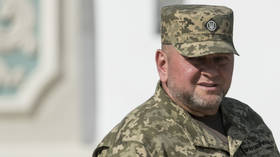 Ukrainian law enforcement, including the State Bureau of Investigation (DBR) and the domestic intelligence agency SBU, are probing multiple senior military officials over events in the country's south on the first day of the ongoing conflict with Moscow, BBC Ukraine reported on Thursday, citing sources.
More than 50 individuals have already been questioned in the investigation, according to the outlet. Law enforcement in the country is seeking to establish the circumstances that made the rapid Russian advance in the country's south possible, like the failure to destroy bridges connecting the then-Ukrainian Kherson region to Russia's Crimea peninsula.
The probe is expected to affect the commander of the Ukrainian Armed Forces, General Valery Zaluzhny, BBC Ukraine's sources suggest. The ongoing criminal investigation has already become known as the "Zaluzhny case," according to the outlet. Thus far, however, Kiev's top general has not been summoned by investigators or somehow officially implicated in the case.
The general had already testified on the collapse of the Ukrainian defenses in the south before a special commission that was set up to access the situation. Zaluzhny made rather controversial remarks before the commission, insisting that all the effort should be put into fighting war rather than assigning blame and stating that "everyone will have his own truth" on the events of the south, the BBC reported, citing an unnamed participant in the hearings.
Russia launched a large-scale military operation against Ukraine in February 2022, making rapid advances against Ukrainian forces in the first few days of the conflict. Moscow's troops achieved the most in Ukraine's south, rapidly breaking through lines of local forces and seizing large swaths of territory, including Zaporozhye Nuclear Power Plant, Europe's largest, and the city of Kherson, which were captured with only minor fighting.
You can share this story on social media: