Azerbaijani leader calls Putin over peacekeeper deaths
The two presidents vowed a full investigation into a deadly incident during this week's military action by Baku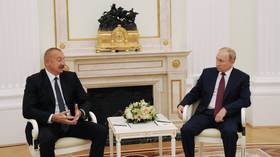 Azerbaijani President Ilham Aliyev has apologized for the killings of Russian peacekeepers in Nagorno-Karabakh and pledged to cooperate with the investigation into Wednesday's incident, the two sides have said.
Aliyev called Russian President Vladimir Putin on Thursday to discuss the deaths, which occurred during an Azerbaijani military operation in the breakaway territory.
The peacekeepers were hit by gunfire while driving to an observation post. All personnel inside the vehicle were killed on the spot, the Russian Defense Ministry said, without specifying the number of fatalities.
The leader of Azerbaijan expressed condolences and offered compensation to the families of the Russian troops, identical readouts of the conversation said.
Aliyev and Putin also discussed the situation in Nagorno-Karabakh and the importance of implementing the Russian-facilitated truce between Baku and the self-proclaimed authorities of the region. The Russian side stressed that the safety and rights of the region's Armenian residents had to be strictly observed.
Nagorno-Karabakh split from Azerbaijan in the final years of the USSR, as its predominantly ethnic Armenian population pushed for independence. Since then the self-governance of the region has been a major point of contention between Baku and Yerevan, which has for decades tacitly supported Nagorno-Karabakh.
In 2020, there was a major flare-up in the territory, which concluded with Baku reclaiming control over large areas it lost in the 1990s. The Russian peacekeeping force was deployed to monitor the truce, which ended the 44-day hostilities. That truce was broken this week, by another military operation by Azerbaijan.
Moscow has noted that the Armenian government explicitly recognized Azerbaijan's claim over Nagorno-Karabakh last year during peace talks, after deadly border clashes between the two rivals. This made the military operation a domestic Azerbaijani issue, the Kremlin has stated.
Armenian Prime Minister Nikol Pashinyan has distanced himself from the crisis, claiming that the wellbeing of ethnic Armenians in the region is now Russia's responsibility.
You can share this story on social media: