Wagner chief's grave under 24/7 guard – media
New measures were introduced after a violin was stolen from Evgeny Prigozhin's resting place, according to the Moskovsky Komsomolets newspaper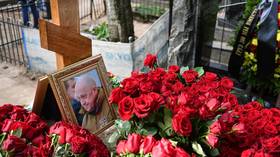 Security measures have been stepped up at the grave of former Wagner private military company chief Evgeny Prigozhin, a cemetery worker has told the Moskovsky Komsomolets newspaper.
According to a report on Wednesday, a guard post and a CCTV camera have been installed after a violin was stolen from the burial site at the Prokhorovskoe cemetery in St. Petersburg.
The instrument is among the symbols of the Wagner Group, whose fighters are nicknamed 'the Musicians' due to the name that the PMC shares with classical German composer Richard Wagner.
A violin and a sledgehammer – another symbol of the PMC – appeared at Prigozhin's grave a few days after his burial on August 29, the cemetery worker recalled. However, he claimed that the musical instrument, which he described as looking "pricey," had been "snatched" the following day.
According to the worker, a cyclist was seen "racing away" from the site at the time of the incident, but the perpetrator has not been found.
"After that, a CCTV camera and a guard booth were set up at Prigozhin's grave," the employee revealed. "Now there's a security guard on duty there 24/7."
The worker said it was his understanding that the measures had been organized by Wagner members, who received approval from the cemetery's administration.
When asked about the whereabouts of the sledgehammer, the cemetery worker replied that it was still at the grave.
Prigozhin and several other high-ranking Wagner figures were killed in a plane crash in Russia's Tver Region on August 23. The cause of the incident is being investigated, and Kremlin spokesman Dmitry Peskov said late last month that a "deliberate atrocity" could not be ruled out.
The Wagner PMC was instrumental in the Russian capture of the strategic city of Artyomovsk (Bakhmut) from Ukrainian forces in May, making Prigozhin a household name.
However, the PMC leader launched a short-lived mutiny against the Russian military in mid-June, after which a deal was reached for him to move to Belarus. Under an agreement with the Kremlin, Wagner fighters avoided prosecution and were provided with a choice of moving to Belarus together with their leader, joining the Russian armed forces, or retiring.
You can share this story on social media: