'Largest ever' Ukrainian drone attacks foiled
Telegram channel Mash described the raid as the biggest seen to date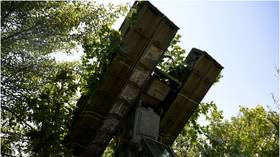 Russian forces have thwarted drone-based "terrorist attacks" by Kiev, the Russian Defense Ministry said in the early hours of Thursday.
According to the ministry, 19 UAVs were "destroyed" over Crimea and the Black Sea. It added that the Kursk, Belgorod and Oryol regions were each attacked by a single drone, all of which were intercepted mid-air.
Telegram channel Mash reported that residents heard "explosions" and the sound of anti-air weapons in several locations of Crimea, describing the drone raid as "the largest yet."
On Wednesday, Ukrainian troops shelled the village of Maksimovka, killing a civilian and wounding one more person, Belgorod Governor Vyacheslav Gladkov said. A woman was injured during an attack on the village of Tyotkino on Monday, according to Kursk Governor Roman Starovoyt.
Kiev has stepped up drone and missile assaults on Russian territory in recent months, as Ukraine's ground counteroffensive launched in early June has failed to yield any significant victories. On September 13, cruise missiles struck a shipyard in Sevastopol in Crimea, damaging two Russian naval vessels.
You can share this story on social media: