Ukraine launches kamikaze drone attack on Russian resort city – media
Fire engulfed a fuel depot after a tank exploded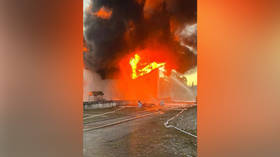 A fuel tank exploded near an oil depot and airport in the Russian resort city of Sochi, which hosted the 2014 Winter Olympics. According to media reports, the blast was preceded by a drone attack. Russian officials have not yet confirmed the reports, and an investigation is underway.
The mayor's office said a report of a fire in the Adler district, a beach area known for the Olympic Park, was submitted at 5:15am local time on Wednesday.
Sochi Mayor Aleksey Kopaigorodsky said that no one was injured as a result. "The airport and the entire transport system are operating normally," he stated, noting that the fire was put out.
Local media reported that before the fire broke out, a sound similar to the "roll of thunder" was heard. Response services are now working at the site of the explosion. According to the Baza Telegram channel, the wreckage of an unidentified model of drone was fonud at the site.
Since the beginning of the military operation in Ukraine, Russian regions, as well as the capital, Moscow, have been attacked by kamikaze drones. Most of the UAVs have been shot down by Russian air defense systems or neutralized by electronic warfare systems.
Ukraine has stepped up its attacks on Russian territory amid its much-hyped 'counteroffensive'. The head of the Ukrainian intelligence service, Kirill Budanov, said the efforts are aimed at "seeding disquiet among the population."
Russian President Vladimir Putin called the Ukrainian offensive "not a misstep, but a failure," noting that Russia has never refused to negotiate a settlement to the conflict.
You can share this story on social media: