New charges against ex-Zelensky sponsor announced
Igor Kolomoysky has been accused of defrauding PrivatBank before its nationalization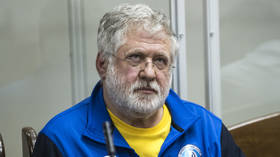 Ukraine's state security service, the SBU, has announced new charges against businessman Igor Kolomoysky, who was arrested earlier this month.
The 60-year-old is accused of payment-documents fraud, abuse of power to illegally appropriate assets, and money laundering, the agency reported on Thursday. The alleged crimes took place between 2013 and 2014, resulting in Kolomoysky snatching some $700 million, it claims.
The SBU says the actions were used to bleed Kolomoysky's PrivatBank, the leading financial institution in Ukraine. It was nationalized in 2016 amid Kiev's attempts to reform the financial sector under the guidance of the International Monetary Fund.
The security agency claims that Kolomoysky used his position as a shareholder to create falsified records of cash deposits in the bank. The virtual assets were later used by him to pay his commercial expenses, causing a loss to PrivatBank.
Kolomoysky is currently being held in pre-trial detention after the Ukrainian authorities charged him with a range of financial crimes.
The businessman is believed to have played a key role in Vladimir Zelensky's rise to power. The incumbent president's comedy show was broadcast by a Kolomoysky-controlled media holding. The billionaire has admitted that he wanted Zelensky to win the 2019 election, but has denied having close ties to him.
You can share this story on social media: