Russia-Ukraine peace talks 'a long way off' – UN chief
Antonio Guterres said he would nevertheless gladly act as a mediator between Moscow and Kiev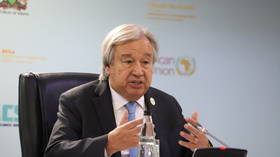 Peace negotiations between Russia and Ukraine are unlikely to take place anytime soon, UN Secretary General Antonio Guterres admitted in a statement made during a press conference on Wednesday.
"I would be happy to become a mediator between Russia and Ukraine to reach peace negotiations, but this is still a long way off," the UN chief said.
During the press conference, Guterres also said he would be doing "everything possible" in order to re-establish the Black Sea grain deal, which was meant to facilitate the export of Ukrainian grain amid the ongoing conflict between Moscow and Kiev. Russia terminated its participation in the treaty in mid-July, stating that the West had failed to uphold any of its obligations under the agreement.
Finally, Guterres announced that he would soon hold meetings with Ukrainian President Vladimir Zelensky, Russian Foreign Minister Sergey Lavrov, and Turkish President Recep Tayyip Erdogan, who initially helped broker the Black Sea Grain Initiative last year.
"I am determined to do everything possible to reestablish the Black Sea Grain Initiative," Guterres said, without revealing when precisely talks with the aforementioned officials would take place.
Meanwhile, White House spokesperson John Kirby has also stated that Washington doesn't currently see any opportunity to resolve the Ukraine conflict, at least not on its own terms.
"Obviously, this will not happen right now," he told RIA news on Wednesday, when asked about the possibility of resolving the crisis in Ukraine.
The US official went on to list the conditions for peace that would suit Washington, among which he noted the complete withdrawal of Russian troops from territories Kiev claims as its own and respect for the sovereignty of Ukraine.
Russia, in turn, has repeatedly insisted that it is open to negotiations, but has emphasized that Kiev needs to face the "realities on the ground" and create the conditions necessary for such talks.
"The Kiev regime will have to start this conversation by recognizing the reality that has come into being since Kiev … rejected the resolution of issues through peaceful means," said Kremlin spokesman Dmitry Peskov on Monday.
Kiev, meanwhile, has insisted on promoting the so-called ten-step 'Zelensky peace formula', which calls for the complete withdrawal of Russian troops from former Ukrainian territories, reparations from Moscow, and a tribunal of Russia's leaders.
You can share this story on social media: