Putin meets Kim Jong-un at Russia's Vostochny Cosmodrome (VIDEO)
The leaders are meeting at the space facility in Russia's Far Eastern Amur Region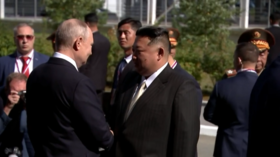 Russian President Vladimir Putin has welcomed North Korean leader Kim Jong-un to the Vostochny Cosmodrome in Russia's Amur Region. A video shared by the Kremlin showed the two leaders shaking hands as they greeted one other on Wednesday.
Putin arrived at Vostochny following a two-day visit to the Eastern Economic Forum in Vladivostok. The North Korean leader traveled to the facility onboard his armored train after crossing into Russian territory on Tuesday morning.
"I'm very glad to see you," Putin told his guest, noting that this year marks North Korea's 75th founding anniversary and 70 years since the Korean War armistice, as well as 75 years of diplomatic relations with Russia.
Kim thanked Putin for the invitation and a "very warm welcome," according to videos of the leaders' handshake shared by Russian media outlets.
Commenting on the agenda of the Russian-North Korean summit, Kremlin Press Secretary Dmitry Peskov said the upcoming talks are set to focus on a number of "sensitive issues," as well as bilateral economic and cultural cooperation, and the overall situation in the region. The Kremlin spokesman said the negotiations would be held both with Russian and North Korean delegations present and in a one-on-one format.
Kim is visiting Russia amid heightened tensions on the Korean Peninsula, which has seen recurring missile launches by Pyongyang as well as military drills involving South Korean and US troops. On Wednesday, just ahead of the meeting with Putin, Seoul accused Pyongyang of yet another missile launch.
You can share this story on social media: