Putin comments on tycoons who fled to Israel
The Russian president directly focused on former Moscow insiders Anatoly Chubais and Arkady Volozh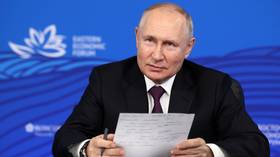 Russian President Vladimir Putin has suggested that the former head of the state-funded Rusnano corporation, Anatoly Chubais, may have relocated to Israel due to fears of legal consequences over financial irregularities.
Speaking at the Eastern Economic Forum in Vladivostok on Tuesday, Putin said he had been shown a photo of Chubais, "where he is no longer Anatoly Borisovich, but Moysha Israelievich, living somewhere over there."
"What is he doing this for, I don't understand. Why did he flee?" the president asked rhetorically.
He suggested Chubais' reason for leaving revolved around an alleged "huge financial hole" at Rusnano, the company he headed for 12 years. Putin noted that there are currently no criminal cases related to alleged financial irregularities, but that perhaps Chubais was concerned that some could emerge.
The businessman "clearly didn't excel at the helm of a big company that was created to foster nanotechnology, at least from an economic [and] financial perspective," Putin said.
When asked by TASS for a response to the remarks, Chubais said he would "rather not comment on anything [President Vladimir Putin] said."
Chubais occupied a number of senior offices under former President Boris Yeltsin, including that of finance minister. He headed Rusnano from 2008 until 2020, before becoming Putin's special representative coordinating relations with international organizations.
Last March, soon after the start of Russia's military campaign against Ukraine, several Western media outlets reported that Chubais had left the country. Putin officially relieved him of his duties at the end of the same month. This May, some Israeli media claimed that Chubais and his wife had requested long-term residence permits in the Middle Eastern state.
Putin also pointed the finger at the co-founder of Russian tech giant Yandex, Arkady Volozh, who has lived in Israel since 2015 and has not visited Russia since the conflict with Ukraine broke out. The Russian leader said that while people have the right to take up residence wherever they please, they should have respect for the country where they made a name for themselves.
Putin described Volozh as a "talented" man and wished him well, despite the tech entrepreneur last month criticizing Moscow's actions in Ukraine. The president added, however, that if a person had received their education and achieved success in Russia, "they should have a sense of conscience toward the country that gave them everything."
You can share this story on social media: