Kremlin explains why it's not worried about Sweden and Finland in NATO
Russia has "no issues" with the two Scandinavian countries, Dmitry Peskov has said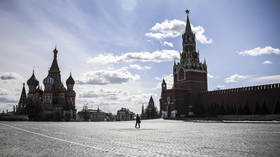 The membership of Sweden and Finland in NATO is not a problem for Russia the way Ukraine's would be, Kremlin spokesman Dmitry Peskov said in an interview on Monday.
Russia "has no issues with either Sweden or Finland," Peskov told the channel RBK. "We have no security-related issues with them, we don't have territorial disputes with them, these countries are not waging a civil war against their regions, these countries do not kill Russians on their territory, these countries do not ban the Russian language as the language of outcasts. Therefore, we have no problems with them."
"But with Ukraine, things are completely different, and the situation in Ukraine is absolutely unacceptable for us," he added.
RBK interviewed Peskov on the sidelines of the Eastern Economic Forum in Vladivostok, which started on Sunday and will run through September 13.
The two Scandinavian countries abandoned their long-standing neutrality to apply for NATO membership last year, citing the Ukraine conflict. Finland had adopted neutrality after the Second World War, in which it had been allied with the Axis. Sweden had been neutral for almost two centuries, after losing Finland to Russia in the Napoleonic wars.
Originally, both countries were to join NATO at the same time. Sweden's bid has been delayed by disputes with Hungary and Türkiye, however, while Finland was admitted in April.
Last week, the Finnish daily Iltalehti reported that US air assets will soon be stationed in Rovaniemi, a city in Lapland just 150km (93 miles) away from the Russian border.
Peskov addressed those reports by saying that Russia hopes neither Sweden nor Finland will threaten its security and "that there will be no missiles on the territory of these countries that would be directed towards us."
He insisted that Moscow has not worn "rose-colored glasses" when it comes to NATO, recognizing that it is a product of the Cold War. The US-led military bloc "drives tensions and confrontation on the European continent" and is by nature "not capable of performing any functions or actions that lead to de-escalation," Peskov concluded.
You can share this story on social media: