Ukraine to change conscription rules
Kiev plans to abolish a category recognizing citizens suffering from certain medical conditions as fit for only limited military service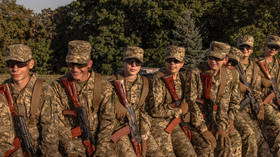 Ukraine plans to change conscription laws to enable the drafting of citizens whose health problems previously rendered them fit only for limited military duty, according to Dmitry Lubinets, Ukraine's human rights ombudsman. However, the official offered assurances that people unable to fight on the front line will serve in the rear.
The move comes as the country's faltering counteroffensive has endured what Moscow says are "catastrophic" losses.
Speaking on national TV on Saturday, Lubinets said that he had proposed to the country's National Security Council to abolish the category 'fit for limited military service', adding that top officials had agreed with him.
"A Ukrainian citizen must either be fit for military service, or not," he explained, adding that a potential conscript with health conditions that preclude participating in active combat can still contribute to defense efforts by serving at headquarters, or in missile and cyber forces.
Lubinets also noted that the Ukrainian authorities had seen many cases when potential draftees bribed conscription officials to be registered as unfit for military service despite being completely healthy, while people with serious and long-standing medical conditions were told that they were fit for limited duty. "This issue should be addressed," he stressed.
During the conflict between Moscow and Kiev, Ukraine's conscription system has been repeatedly criticized for rampant corruption. The Financial Times reported last month that some male Ukrainians were paying up to $10,000 in bribes to avoid being sent to the front.
Around the same time, Ukrainian President Vladimir Zelensky sacked all of the regional military conscription officials after a string of corruption scandals. In the wake of the purge, Kiev also said that it would review all draft exemptions issued after the start of the conflict with Russia.
However, Zelensky has said that his top military commanders had been asking him to draft more people. Earlier this month, Ukraine's Defense Ministry issued a decree allowing the conscription of people with such severe conditions as hepatitis, HIV without symptoms, and clinically-treated tuberculosis.
The push to expand the draft comes amid Ukraine's counteroffensive, which has been underway for more than three months but has failed to make any significant progress. According to Moscow, Kiev has lost some 66,000 troops since the start of the offensive.
You can share this story on social media: