US forcing 'fight to last Ukrainian' – Kremlin
Dmitry Peskov made the remark amid media reports that the US is set to unveil another defense aid package for Kiev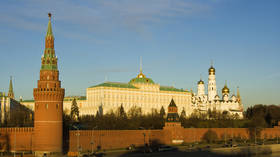 The US is intent on "waging a war to the last Ukrainian," Kremlin spokesman Dmitry Peskov has claimed following reports that Washington is planning to provide more weapons to Kiev. He insisted that the additional aid would not change the course of the conflict.
"We have many times heard statements that [the US] is going to continue helping Kiev as long as necessary," Peskov told reporters on Wednesday.
This means Washington will "further keep Ukraine effectively at war and wage this war to the last Ukrainian, sparing no expense," he added.
Peskov said American military supplies would not change the way Russia's military campaign is being conducted in the neighboring country.
US Secretary of State Antony Blinken arrived in Ukraine for an unannounced two-day tour on Wednesday – the first such visit since the start of the Ukrainian counteroffensive in early June.
"We want to make sure that Ukraine has what it needs not only to succeed on the counteroffensive, but [also] in the long term," he stated following his arrival in Kiev.
Earlier, a State Department official told journalists on the trip that the secretary of state would likely announce a new $1 billion assistance package, as reported by Reuters.
The Russian Defense Ministry claimed this week that Kiev had suffered "colossal" losses during its summer campaign, with more than 66,000 troops killed and over 7,600 heavy weapons destroyed.
Speaking following talks with his Turkish counterpart Recep Tayyip Erdogan in Sochi on Monday, President Vladimir Putin declared that Kiev's attempts to breach Russian defenses had failed.
Meanwhile, there has been growing opposition among US lawmakers to the continuation of military assistance for Ukraine at current levels, as well as calls for more oversight.
Last month, US President Joe Biden asked Congress to authorize $24 billion in additional spending for Ukraine.
You can share this story on social media: