Kiev brings more charges against UK-based billionaire
Ukraine's SBU has accused Mikhail Fridman of financing the Russian war effort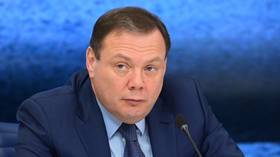 London-based Russian billionaire Mikhail Fridman is facing more criminal charges in Ukraine. The country's security service, the SBU, has accused him of investing tens of millions of dollars in Russian weapons production amid the ongoing armed conflict.
The SBU made a number of allegations against the businessman on Tuesday, noting that he could face eight years in prison and have his property confiscated as a result of the criminal case.
Fridman is accused of "pouring" some $20 million into Russian defense companies, distributing military supplies, providing insurance to the military, and establishing a mobile service in parts of Russia that Kiev claims to be under its sovereignty.
In August, the Ukrainian national police announced that they were investigating Fridman for allegedly siphoning some $19 million out of the country and engaging in money laundering, tax evasion, and the forgery of documents.
Those charges came a week after the US blacklisted the entrepreneur alongside other wealthy Russians. Washington imposed sanctions on several individuals associated with Fridman's Alfa Group Consortium, including Pyotr Aven, German Khan and Alexey Kuzmichev.
Fridman's London home was raided by British law enforcement in December, an action that prompted him to seek recourse through the justice system. In court filings reported by Reuters in July, the National Crime Agency (NCA) acknowledged that its raid and seizure of property had been "unlawful."
The EU and the UK sanctioned Fridman in March 2022, a month after the hostilities in Ukraine started. He is challenging the restrictions.
You can share this story on social media: