Sacked Ukrainian defense minister reveals total value of Western military aid
Aleksey Reznikov has estimated the direct defense assistance to Kiev at $100 billion so far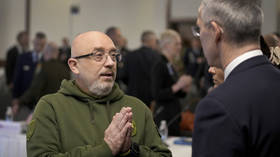 Ukraine's Western backers have given Kiev at least $100 billion worth of weapons – including more than $50 billion from the US alone – since Russia's military operation in Ukraine began, outgoing Defense Minister Aleksey Reznikov has said.
Reznikov revealed the aid estimate in an interview published on Sunday by state-run media outlet Ukrinform, in which he defended the effectiveness of his ministry's procurements. The article was posted on the same day that Ukrainian President Vladimir Zelensky announced that he planned to replace Reznikov because the Defense Ministry needs "new approaches and new formats of interaction, both with the military and society as a whole."
Reznikov said his aid estimate includes the value of weapons, ammunition, and other military equipment given to Ukraine, as well as Western financial contributions for military purposes.
His tenure as defense minister has been marred by multiple corruption scandals, primarily involving the procurement of equipment and foodstuffs for the country's military at abnormally inflated prices.
However, in the interview, he insisted that his ministry, which has relied primarily on funding from other countries, rather than Ukraine's own defense budget, has been spending the money effectively and has been able to provide for all the military needs "cheaply" enough.
"Using the legal procedures during martial law, under a shortened procedure, we entered into contracts with everyone and everything we needed," he claimed, insisting that the amount of "problematic" contracts was only around 2.7%. "Therefore, if we calculate the efficiency of the use of budget funds, then what we provide in the army, we provided cheaply."
Western aid to Kiev could potentially decline sharply in the years ahead. The EU reportedly plans to set up a Ukraine military fund that will provide €5 billion ($5.4 billion) annually over the next four years for weaponry and training. US aid will likely be far lower than this year in 2024, the Wall Street Journal reported late last month, citing unidentified officials in Washington.
Some Republicans in Congress and two of the party's top 2024 presidential candidates – former President Donald Trump and biotech billionaire Vivek Ramaswamy – have called for halting Ukraine aid and ending the conflict through a negotiated peace agreement with Moscow.
Reznikov suggested that reform efforts at the Ukrainian Defense Ministry should be carried out with Europe and NATO in mind. "Ukraine's membership in NATO would be a very serious step toward building the architecture of our new security – in fact, a guarantee of security against a future offensive and attack by Russia," he said.
The outgoing defense minister added that to deter Moscow from seeking revenge, "we need to be a member of a powerful security alliance, and NATO is just such an alliance. There is nothing better on planet Earth."
Moscow has repeatedly warned that deliveries of weapons to Ukraine by the US and its European allies only prolongs the fighting and increases the risk of a direct confrontation between Russia and NATO. According to Russian officials, the supply of arms and training to Kiev's troops, as well as intelligence-sharing, means that Western nations are already de-facto parties to the conflict.
You can share this story on social media: