Ukrainian military to conscript HIV patients
Kiev will allow people with various conditions, including HIV and hepatitis, into the military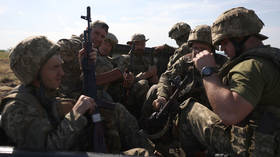 The Ukrainian Defense Ministry has amended its requirements for military service, allowing the conscription of people with various chronic conditions.
According to the new decree, which came into force in late August, the military can now conscript people with conditions including hepatitis of different types, HIV without symptoms, clinically-treated tuberculosis, as well as various blood diseases. The new rules also allow the conscription of people with "mild short-term manifestations of mental disorders," as well as "slowly progressing diseases of the central nervous system."
Apart from lifting the restrictions from the aforementioned groups, the military also eased the health requirements for those seeking to serve with Ukraine's elite units – the airborne and marine forces.
Ukraine launched a nationwide mobilization in the early days of the conflict with Russia, which broke out in February 2022. In recent months, Kiev has apparently ramped up its conscription efforts, with videos circulating online showing enlistment officers chasing potential recruits in the streets, physically assaulting them, and threatening them with weapons.
Kiev's troops have sustained heavy losses in both personnel and hardware amid the counteroffensive effort against Russian forces that was launched in June. It has so far failed to yield any tangible results, while dozens of Western supplied tanks and armored vehicles, including German-made Leopard 2 tanks and US-made Bradley infantry fighting vehicles, as well as thousands of servicemen, have been lost.
You can share this story on social media: