Ex-Zelensky sponsor charged with money laundering
Billionaire Igor Kolomoysky is suspected of laundering and siphoning off more than $10 million from Ukraine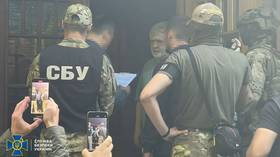 Ukrainian authorities have informed oligarch Igor Kolomoysky, whose backing is thought to have helped Vladimir Zelensky secure the country's presidency, that he is suspected of fraud and real estate laundering.
In a statement on Saturday, the Security Service of Ukraine (SBU) said that the billionaire – whom it described as the "de facto owner of a large financial and industrial group" – had legalized more than 500 million Ukrainian hryvnia ($13.5 million) by "transferring it abroad, while using the infrastructure of banking institutions controlled by him."
The announcement comes amid an ongoing crusade by Kiev against rampant corruption.
Ukrainian officials stated that Kolomoysky, who also has Cypriot and Israeli citizenship, was informed that he is suspected on two counts – fraud, and legalization of property obtained by criminal means.
The investigation was also confirmed by the Prosecutor General's Office of Ukraine, which said that Kolomoysky was "served with a motion to choose pre-trial restrictive measures," adding that the agency is continuing its probe into the matter in coordination with the SBU and the country's Economic Security Bureau.
Kolomoysky's home was searched by SBU operatives in early February, according to local media reports. At the time, the raid reportedly focused on the oligarch's potential involvement in the alleged embezzlement of 40 billion hryvnia ($1.1 billion) and evasion of customs duties by the Ukrtatnafta and Ukrnafta oil companies.
Kolomoysky burst on to the political scene in 2014, when he was appointed governor of the southeastern Dnepropetrovsk Region following a Western-backed coup in Kiev. A year later, however, he was dismissed from his post over a conflict with then-Ukrainian President Pyotr Poroshenko amid a struggle for control of Ukrnafta and state-owned oil pipeline operator Ukrtransnafta.
In 2016, Ukrainian authorities also nationalized Kolomoysky's PrivatBank, after declaring it a major threat to the country's financial system, following allegations of large-scale fraud.
Kolomoysky is also widely considered to have played a major role in the rise to power of President Vladimir Zelensky. Before launching his political campaign in 2019, Zelensky was a comedian, whose show was hosted by a Kolomoysky-controlled media holding. The magnate himself said he "wanted" Zelensky to become president, but denied close contacts with him.
In 2021, the US State Department sanctioned both Kolomoysky and his family members, citing his involvement "in corrupt acts that undermined rule of law and the Ukrainian public's faith in their government's democratic institutions." In July 2022, media in Ukraine reported that he was stripped of his Ukrainian passport. However, while the news was confirmed by several officials in Kiev, the relevant presidential decree is classified while the oligarch himself dismissed the reports as "nonsense."
You can share this story on social media: