Russia's longest-range nuclear missile goes into service – space chief
The Sarmat ICBM has been approved for combat duty, Roscosmos head Yury Borisov has announced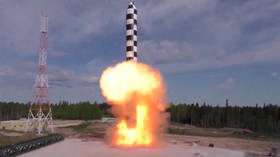 The Sarmat intercontinental ballistic missile, one of Russia's most capable nuclear weapons, has been approved for active duty, Yury Borisov, the head of the Roscosmos space agency, has announced.
The development was revealed on Friday during a Roscosmos event. The weapon is believed to be the longest-range and heaviest missile in the Russian nuclear arsenal.
The liquid-fueled silo-based delivery vehicle, final stage testing of which was completed last year, is the intended replacement for the aging R-36M2 Voevoda missiles. Its range is estimated at at least 11,000 miles (about 18,000km), with a payload weighing around 10 tons.
Russian President Vladimir Putin has touted the Sarmat's range as offering new opportunities for defeating anti-ballistic missile systems. Shorter-range ICBMs can, for example, only reach the US from Russia by flying over the Arctic, and the US has ground-based interceptors situated for such a flight path.
Putin has repeatedly stressed that Russia was forced to develop the new weapon after the US reneged on its commitment not to build ABM systems.
Russian Defense Minister Sergey Shoigu reported last December that deployment of the Sarmat had begun and that the missile would be ready for service in 2023.
You can share this story on social media: