Suspected drone 'neutralized' near Russian airport – governor
Another unidentified object has been detected in the area days after a drone raid on Pskov airport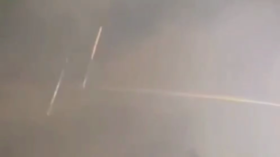 The Russian military has spotted a suspected hostile drone over the city of Pskov, near the airport that was attacked by multiple Ukrainian drones earlier this week, regional Governor Mikhail Vedernikov said early Friday morning.
An airspace control post in the area of Kresty, near Pskov airport, "detected a single unidentified object in the sky," he confirmed on Telegram around midnight local time.
The official shared a brief video of what he called the "measures undertaken to neutralize" the object, which appears to show anti-air gunfire lighting up the night sky.
There was no damage or injuries on the ground as a result of the incident, Vedernikov said. The Defense Ministry has yet to comment on the alleged new attack.
In the early hours of Wednesday, the Russian city of Pskov, near the territories of NATO members Estonia and Latvia, came under attack by a swarm of drones. Local authorities and emergency services said that several Il-76 transport planes were damaged in the attack, but the military has yet to confirm these reports. The airport briefly canceled all flights to assess potential damage to the runway, but fully resumed operations on Thursday.
You can share this story on social media: