Russian air defenses repel multiple coordinated drone raids – MOD
Ukrainian UAVs were downed over Russia's Bryansk, Orel, Kaluga, Ryazan and Moscow regions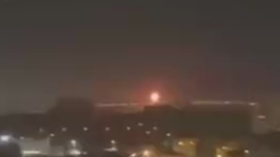 The Russian military has prevented a series of attempted Ukrainian drone strikes overnight, with over half a dozen unmanned aircraft shot down across five regions spanning from the Ukrainian border to Moscow, the Defense Ministry claimed early on Wednesday.
Russian air defense units prevented an "attempt by the Kiev regime to carry out a terrorist attack by airplane-type UAVs on Russian infrastructure," the military said in a brief statement.
Shortly after midnight, three unmanned aircraft were shot down in the border region of Bryansk and at least one intercepted over Oryol, some 200 kilometers from the Ukrainian border.
Around 2am, another drone was detected and downed over Kaluga Region, to the southwest of Moscow, the Defense Ministry added in another statement.
At 2:30am a plane-type unmanned aerial vehicle was downed in Ryazan Region.
At about 3:30am, another Ukrainian UAV was intercepted and crashed over the territory of Moscow Region. The hostile UAV was downed while heading towards the Russian capital, Moscow Mayor Sergey Sobyanin said, adding that it caused no damage or injuries on the ground.
At 4am yet another UAV was downed over Ryazan Region, according to the Defense Ministry.
At 8:30am, Bryansk Region governor Aleksander Bogomaz reported another incident, saying that two drones had targeted a TV tower in the city of Bryansk. Both aircraft were shot down by air defenses, he wrote on Telegram, adding that the fires at their crash sites had already been extinguished.
Earlier, the Russian aviation authority announced the emergency closure of airspace over the Tula, Ryazan, and Kaluga regions and parts of Moscow Region, following explosions at an airfield in northwest Russia.
At least 10 drones attacked Pskov, according to the regional governor. Most were brought down by air defenses, but some reportedly caused damaged at least two Il-76 transport aircraft. There were no reports of casualties.
Pskov is about 700 kilometers north of Ukraine, but only 30 kilometers from the Estonian border. Latvia is about 60 kilometers to the southwest. Both are NATO member states. To reach the city, drones launched from Ukraine would have to fly over eastern Belarus.
Ukraine has previously used "drone swarms" to attack Crimea, but has not sent more than a handful of UAVs in the direction of Moscow, where they caused minor property damage to the city's financial district. The Kremlin had dismissed the attacks as an "act of desperation," intended to distract from Kiev's failures on the battlefield.
You can share this story on social media: