Western countries not welcome at BRICS – Moscow 
Only nations that do not enforce sanctions against the group's members can be admitted, Russian Deputy FM Sergey Ryabkov has said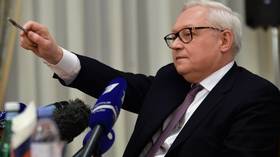 Western countries don't have a chance of joining BRICS as long as they pursue hostile policies against any of its members, Russian Deputy Foreign Minister Sergey Ryabkov said on Friday.
Speaking at a press conference following the BRICS summit in Johannesburg, South Africa, Ryabkov recalled that one of the key conditions for admittance to the group is "non-application of illegal sanctions against any of the members of the association."
He noted that all six countries that were invited to join BRICS at the meeting – Argentina, Egypt, Ethiopia, Iran, Saudi Arabia, and the United Arab Emirates – fully comply with this requirement.
Meanwhile, Western states "are following exactly the opposite course, so there is no question of inviting anyone from this group not only to join BRICS, but even to participate in its events," Ryabkov stressed, vowing to stick to this line.
However, he would not completely close the door on BRICS membership for Western states. If any country that had supported the sanctions regime were "to break ranks despite the tough discipline within the Western camp" and abandon this policy, its membership application could be processed, the deputy minister said.
Western countries have imposed harsh economic sanctions on BRICS member Russia over the Ukraine conflict. Moscow has repeatedly condemned these punitive measures, calling them "illegal." In addition to this, in 2021, the EU imposed restrictions on China – another BRICS member – sanctioning several officials for alleged human rights violations that Beijing has consistently denied.
Meanwhile, Ryabkov also warned that the US was piling up pressure on other countries in a bid to prevent changes in the global landscape following the BRICS meeting and the group's unprecedented expansion. However, "the process of diluting the role of the collective West in world affairs is irreversible," he noted, adding that he was sure that Russia's partners are wise enough to see what the West is really trying to do and resist its pressure.
You can share this story on social media: