VIDEO shows 'Wagner boss plane crash' – media
A private jet that came down in western Russia on Wednesday had the Wagner Group founder, Evgeny Prigozhin, listed on board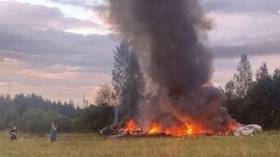 The moment a business jet crashed in Russia's Tver Region, reportedly with Wagner private military company head Evgeny Prigozhin listed among the passengers scheduled to fly on it, has apparently been caught on video and shared by multiple social media channels.
Several short clips published by the Mash and Baza Telegram channels appear to show the Embraer Legacy 600 jet plummeting toward the ground in a seemingly uncontrolled spin. Black smoke can be seen coming out of the plane, although it is unclear which part of the aircraft had caught fire.
One of the clips also shows the wreckage of the plane lying in a field and engulfed in flames. A large plume of black smoke can be seen billowing over the crash site.
The incident happened near the village of Kuzhenkino in Tver Region, northwest of the capital Moscow. Some Russian media have identified the aircraft as an Embraer Legacy 600 with the tail number RA-02795. The plane reportedly belonged to Prigozhin.
The Russian Federal Civil Air Traffic Agency (Rosaviatsiya) confirmed that the Wagner Group founder was listed among the passengers scheduled to fly on the jet. The Russian Emergencies Ministry said that all 10 people on board – including three crew members – died in the crash. It is still unclear if Prigozhin was among the victims.
According to the Emergencies Ministry, the aircraft was flying from Moscow's Sheremetyevo Airport to St. Petersburg.
You can share this story on social media: