Drone strikes Moscow's financial hub – mayor
A UAV has crashed into a building in the Russian capital's business district, Sergey Sobyanin said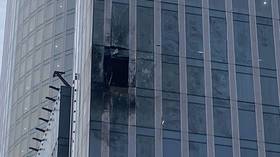 A drone has crashed into a building under construction in Moscow City, the Russian capital's financial and business hub, Mayor Sergey Sobyanin said in the early hours of Wednesday, adding that that no one was hurt.
The Russian Defense Ministry later released a statement, saying that a total of three Ukrainian UAVs were on a mission to conduct "a terrorist attack" on Moscow. It said that two drones were destroyed mid-air, while the third veered off course due to signal-jamming and crashed into a building in the city's business district.
Moscow City, which contains some of Europe's tallest skyscrapers, hosts the offices of several Russian ministries and agencies, as well as high-end apartment blocks. The district has been targeted by Ukrainian drones in the past.
Residents reported hearing loud blasts in Moscow City itself and in Khimki, a northwestern suburb of the capital. News agency TASS cited emergency services as saying the damage to the building was minor.
A video posted on Telegram shows the drone hitting the multi-story building.
The wreckage of a different UAV was reportedly found in Khimki, where a residential block and a shop were damaged.
Ukrainian drones first reached Moscow City on July 30, when a UAV struck one of the office buildings of the 'IQ Quarter' complex. Kiev has stepped up aerial attacks deep inside Russian territory in recent weeks, as its forces have failed to break through Russian defenses on the ground during Ukraine's much-anticipated offensive.
You can share this story on social media: