Transgender ex-FSB officer fined for breaching Russian exit ban
Katerina Myers was prevented from traveling to Mexico before her security-related ban expired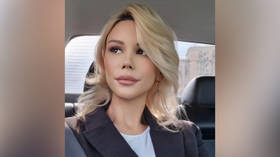 A former Russian security officer-turned-Instagram personality who made headlines by coming out as a trans woman has been fined for attempting to leave the country despite being banned from traveling abroad, her lawyer has reported.
Katerina Myers left her career of more than a decade at the Federal Security Service (FSB) to undergo a gender transition. Last December, she was detained at a Moscow airport before she could board a flight to Mexico, where she had intended to spend a vacation.
All former FSB employees are prohibited from leaving Russia for five years after retiring, unless a special waiver is granted. The ban was imposed in 2020, although prior to that there were restrictions specific to higher-ranking officers.
Myers, who was an FSB captain by the time she left last year, is subject to the blanket travel ban until 2026. According to her attorney, Konstantin Erokhin, her case was settled at the federal court for Moscow Region, which issued a fine of almost $3,200.
Myers herself said on social media that she was happy with the outcome and that it was what she had expected. Detractors who had "tried to scare me" with worse scenarios had been proven wrong, she claimed.
In a separate incident in February, Myers declared she would be seeking legal action against a Telegram channel which she accused of publishing pornographic images of her without her consent.
The photos were apparently meant for paying foreign customers. Myers argued that the channel had violated the Russian criminal code by circulating the materials.
You can share this story on social media: