US military could create 'global biological crisis' – Russian MOD
The Pentagon is especially interested in studying infections that could be used as weapons, Moscow has claimed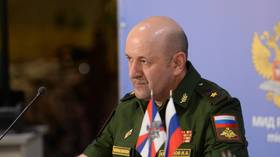 The US military is studying pathogens that could be used as biological weapons as the nation prepares for a potential new pandemic, the commander of Russia's Nuclear, Biological, and Chemical Defense Forces, Lieutenant General Igor Kirillov, claimed on Wednesday.
The list of diseases that have attracted the attention of US specialists includes anthrax, tularemia, and various coronaviruses, Kirillov told a media briefing. Some of these pathogens are listed by the US Centers for Disease Control and Prevention (CDC) as "high-priority" threats that can be used as "bioterrorism agents."
"There is a clear trend: pathogens that fall within the Pentagon's area of interest, such as Covid-19, avian influenza, African swine fever, subsequently become a pandemic, and American pharmaceutical companies become the beneficiaries," the general claimed, without elaborating.
According to Kirillov, the US was extensively studying coronaviruses shortly before the Covid-19 pandemic struck. Last month, the White House announced the creation of the Office of Pandemic Preparedness and Response Policy (OPPR), tasked with "leading, coordinating, and implementing actions related to preparedness for, and response to, known and unknown biological threats."
The Russian military believes that may be another step in Washington's plans to gain control over the global biological and epidemical situation. "As in 2019, the US has begun preparing for a new pandemic by searching for virus mutations," Kirillov said.
Moscow does "not rule out that the United States will use so-called defensive technologies for offensive purposes, as well as for global governance by creating crisis situations of a biological nature," the general added.
Russia has repeatedly raised the issue of global biological activities that involve the US military. Soon after the conflict between Moscow and Kiev broke out, Russia shared allegations of a sprawling network of secretive US-funded biological laboratories in Ukraine. It has since published troves of documents it claims were linked to the work of the laboratories.
In April, the Russian Defense Ministry stated that the US had been constructing new laboratories in Ukraine and training their personnel.
Moscow also took the issue of biolabs to the UN last October, requesting an international probe. The motion, however, was turned down by the UN Security Council, with the US, UK, and France voting against it.
Earlier this week, Democrat presidential hopeful Robert F. Kennedy Jr. claimed that the US had outsourced some of its biological weapons research to the Ukrainian authorities after the 2014 Maidan coup. According to Kennedy, the bioweapons program operates under the guise of "life sciences" studies.
You can share this story on social media: