CNN publishes footage of drone attack on Crimean Bridge
The Ukrainian Security Service officially claimed responsibility for the attack by forwarding the video to the outlet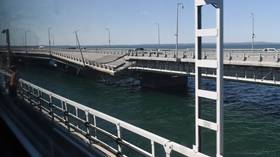 The Security Service of Ukraine (SBU) has provided CNN with never-before-seen footage showing a first-person view from a naval drone that struck the Crimean Bridge on July 17.
This is the first time Kiev has officially admitted to the attack, which took the lives of two civilians and injured their 14-year-old daughter.
Published by CNN on Tuesday, the SBU video depicts what the drone pilot called an 'experimental' craft moments before it strikes the concrete structure with around 850 kilograms of explosives. The footage was supplemented with CCTV recordings that show the moment of one drone's impact on the road section of the bridge and another blast hitting the railway section several minutes later.
The attack, which Russian officials declared an act of terrorism, caused significant damage to the road lanes of the bridge which connects mainland Russia with the Crimean Peninsula.
In a statement to the outlet, the head of the SBU, Vasily Malyuk, said the development of maritime drones, which he called 'Sea Babies', was carried out independently by the security services in an underground facility without the participation of private companies. He noted that development of the drones began shortly after Russia launched its military operation in Ukraine in February 2022.
"Sea surface drones are a unique invention of the Security Service of Ukraine," he claimed, boasting that the SBU recently conducted successful hits on the Crimean Bridge and a Sig oil tanker that Kiev claims was carrying fuel for Russian forces.
Previously, Malyuk had also claimed responsibility for the truck bomb attack on the Crimean Bridge in October of last year, significantly damaging the structure and killing three civilians.
Since the start of the Ukraine conflict, Kiev has repeatedly resorted to using unmanned aerial and naval vehicles to conduct attacks on Russian civilian and military targets, primarily on the Crimean Peninsula, which officially became part of Russia in 2014 following a referendum.
Last month, Russian President Vladimir Putin described the attacks on the Crimean Bridge as "brutal" and pointless from a military perspective, explaining that it is no longer used to transport combat equipment.
Nevertheless, Ukraine's defense chief, Aleksey Reznikov, has vowed to continue attacking the bridge and other targets on the peninsula in an attempt to reduce Moscow's capacity to fight.
You can share this story on social media: