Nuclear targeting deal with US and UK 'non-binding' – Moscow
Russia has nonetheless confirmed its commitment to the principle that atomic war should never be fought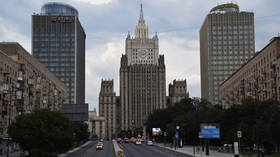 Post-Cold War agreements in which Russia, the US and UK pledged not to target each other with nuclear weapons are not legally binding, the Foreign Ministry in Moscow has claimed, while reiterating its commitment to the non-targeting principle itself.
In a statement on Friday, the ministry acknowledged the "deterioration of international security and strategic stability" amid the standoff between Russia and the West over the Ukraine conflict, as well as the intensifying calls to scrap existing de-targeting agreements with Washington and London.
The ministry was referring to the 1994 Moscow declaration signed by then-US President Bill Clinton and his Russian counterpart, Boris Yeltsin, which stipulated that the two countries "will not operate nuclear forces, day-to-day, in a manner that presumes they are adversaries." It also stated that Russian and American nuclear warheads will either have no targets at all, or will be targeted at the open ocean. A similar deal was reached between Russia and the UK.
"These agreements are political in nature and do not create any legal obligations for the parties. Since they are not international treaties… the procedure for their termination… is not regulated by international law," the statement read.
The ministry added that Russia maintains a nuclear deterrent against "individual states and military coalitions" that possess significant nuclear or conventional offensive capabilities and consider Moscow a potential adversary. It noted that Russia regards its policy in this area as among its national security priorities.
However, the ministry reiterated that Moscow adheres to the principle that nuclear war should never be fought, adding that in early 2022, all five internationally recognized nuclear powers – Russia, the US, France, Britain, and China – underscored "the validity of previous statements on de-targeting."
Shortly after the start of the Ukraine conflict in February 2022, Russian President Vladimir Putin ordered the country's nuclear forces to move to a "special regime of combat duty." Earlier this year, he also suspended the 2010 New START treaty, the last remaining agreement capping US and Russian atomic arsenals, citing the refusal of Western powers to permit inspections of their nuclear facilities. At the same time, Putin vowed that Russia planned to follow the numerical limitations imposed by the treaty.
NATO and the US have repeatedly said that they have seen no change in Moscow's nuclear posture.
You can share this story on social media: