Suspect in Crimean gas pipeline blast detained – FSB
Authorities claim the Russian citizen had been recruited by Ukrainian special services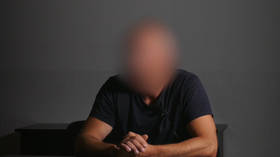 A man suspected of blowing up a gas pipeline in the Crimean village of Koreiz in June has been apprehended, Russia's Federal Security Service (FSB) announced on Wednesday. Authorities say the 43-year-old Russian citizen was working for Kiev.
The FSB said in a statement that the suspect was recruited by the Security Service of Ukraine (SBU) in June 2022 in Dnepropetrovsk Region. While there, he allegedly underwent reconnaissance training and was then sent on a sabotage mission to Crimea.
On June 23 of this year, the unnamed suspect proceeded to blow up a gas pipeline using an improvised explosive device provided by his Ukrainian handlers through a hidden cache, the FSB claimed.
It was stated that during a search of the suspect's garage, authorities seized a foreign-made C-4 plastic explosive charge weighing 2kg, two military-grade electric detonators, two electric igniters, and a home-made charger.
The FSB reported that a criminal case has been launched on counts of terrorism and the illegal possession of explosive devices. According to the authorities, the Russian citizen has already confessed to cooperating with the Ukrainian special services to prepare and commit acts of sabotage and terrorism.
In a video interview published by the FSB, the man claims that he was blackmailed into cooperating with the SBU after Ukrainian authorities discovered that he had Russian citizenship.
"They told me they wouldn't leave me alone and would put me in prison for having dual citizenship and proposed that I cooperate. They told me I wouldn't have any problems and would in the long term be able to move to live in Crimea along with my family, and that they would help with everything," the man said.
He claims that after he agreed, he was given a basic course on how to work with explosives and was sent to Crimea, via a third country, to await further instructions. Several months later, the man says he was ordered to collect a package that contained several detonators and explosives, and was instructed to blow up any gas transportation pipeline he could find. His family, the SBU allegedly told him, would only be allowed to join him after he had carried out his mission.
On June 23, Crimean authorities reported that a pipeline in the settlement of Koreiz had been damaged, leaving around 500 people without gas. However, the pipeline had already been repaired by the end of the same day.
You can share this story on social media: