US journalist missing after attempt to flee Ukraine
Gonzalo Lira was detained at the border, a source has confirmed to RT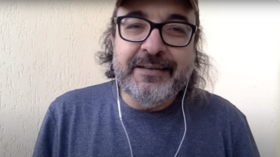 Chilean-American reporter Gonzalo Lira, who claimed he would attempt to flee Ukraine after being subjected to physical abuse and extortion in custody, has gone missing, a source has confirmed to RT.
Lira, a vocal critic of the Ukrainian government, resurfaced this week, months after being arrested by the nation's security service, the SBU. In a series of posts on Twitter and YouTube, he stated his intention to cross the border into Hungary and apply for political asylum.
In a series of tweets yesterday he claimed he had been kept incommunicado in pre-trial detention since early May. He also claimed he had been deprived of sleep, beaten and tortured by other inmates, on instructions from prison authorities.
Lira apparently never made it across the border. Mark Sleboda, a political analyst and frequent guest on RT, confirmed to the channel that Lira was stopped by Ukrainian border guards and has not been heard from since.
Lira had previously claimed that he had been released on bail after months in detention and ordered not to leave the city of Kharkov. However he added that he had his passport and was not wearing an electronic shackle, contrary to the terms of his release.
"Maybe I'm being set up by them so they can justify putting me away in a labor camp – so no one will ever know about their sordid extortion scheme," he said. "I simply don't know."
In the event that he would cross the border in to Hungary, Lira expected Ukraine to issue an international arrest warrant for him for skipping bail. He added that he hoped Hungary would be willing to defy Kiev and not hand him over, unlike other EU nations.
"If you don't hear from me in the next 12 hours—whelp! I'm on my way to a labor camp!" he concluded. There have been no further updates on his social media since.
Lira has been accused by Ukraine of "publicly justifying" the Russian military operation and "disseminating fakes [false stories] about the war in Ukraine". He claims the charges were bogus and that he did nothing but explain his opinions about Kiev's policies and report what was happening in the country.
You can share this story on social media: