Ukrainian drone attacks on Moscow are 'acts of desperation' – Kremlin
Kiev has made numerous attempts to strike the Russian capital in recent months, with UAVs repeatedly shot down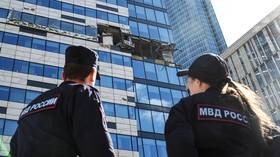 Ukraine is launching "terrorist strikes" on Moscow and other civilian targets in Russia out of frustration over its failures on the battlefield, Kremlin press secretary Dmitry Peskov has said.
Early on Sunday, Kiev made another attempt to attack Moscow with UAVs, this time targeting Moscow City, the Russian capital's financial and business district. All incoming aircraft were shot down by air defenses, but their debris damaged the glass facades of two skyscrapers. One person was injured, according to emergency services.
"The Kiev regime isn't achieving any success. It's obvious that the counteroffensive isn't going as planned," Peskov told journalists on Monday.
The US and NATO have invested billions in preparing Ukraine for the counteroffensive, providing it with German-made Leopard 2 tanks, American Bradley fighting vehicles and other sophisticated weapons. But according to the Kremlin spokesman, this hardware is being "used inefficiently, wasted aimlessly, which also raises questions in the Western capitals and causes great discomfort among taxpayers in Western countries."
The counteroffensive began in early June after numerous delays, but, according to Moscow, it has not resulted in any significant gains for Ukraine so far. Kiev has claimed the capture of several villages, but they appear to be located some distance away from the main Russian defense lines.
The attempted drone attacks on Moscow are "some sort of acts of desperation against the background of those failures. And, of course, Kiev resorts to such terrorist tactics," Peskov said.
"Those are terrorist strikes that are aimed specifically at civilian targets… This is outrageous and we'll continue to fight against this," he stressed.
When asked if there were plans to further boost the defenses around Moscow in view of the Ukrainian drone incursions, the spokesman replied that "security measures have already been heightened" in the capital and in other affected regions.
"All possible measures are being taken to organize necessary protection from the continued threat of terrorist attacks on civilian targets and residential areas by the Kiev regime," the Kremlin spokesman assured.
In recent months, Ukraine has made regular attempts to strike Moscow with drones, which have proven unsuccessful so far. In the last week there have been three reports of drones being shot down in and around the capital, including the latest incident over Moscow City.
In May, two UAVs were disabled by air defenses while trying to strike the Kremlin in central Moscow. Ukrainian officials denied being involved, but Moscow labeled the incident "a pre-planned terrorist act" and an attempt on Russian President Vladimir Putin's life by Kiev.
You can share this story on social media: