US drone locked weapons on Russian jets – Moscow
The Su-34 and Su-35 planes were forced to fire flares during a dangerous encounter over Syria, a senior military official said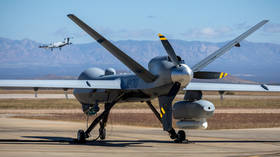 A US MQ-9 Reaper surveillance and attack drone flew "dangerously close" to a pair of Russian Su-34 and Su-35 fighter jets in Syria on Wednesday, Moscow said. It was the second such incident in less than a week.
According to Rear Admiral Oleg Gurinov, the deputy head of the Russian Reconciliation Center for Syria, the incident occurred shortly after 7:30 am local time over the northwestern Aleppo Province. He said the Russian planes automatically fired decoy flares after their radars showed that the Reaper had locked its weapons on them.
White House spokeswoman Karine Jean-Pierre offered a different account of the event, stating that the Russian aircraft were "flying dangerously close to our drone," which was part of a mission against Islamic extremists.
The Pentagon said earlier that a Russian jet flew within meters of an MQ-9 during a separate incident on Sunday, damaging the drone's propeller with flares. Addressing Sunday's altercation, Gurinov said the Reaper was flying in a reckless manner, and collision was narrowly avoided thanks to "the high level of professionalism" of the Russian pilots.
Moscow and Washington have frequently accused each other of risky maneuvers and unprofessional behavior in Syrian airspace. Gurinov told reporters that Russian planes were conducting flights strictly in accordance with existing agreements between Russia and the US, aimed at preventing incidents involving military aircraft.
You can share this story on social media: