Ukraine officially claims responsibility for terror attack on Europe's longest bridge
Kiev was behind the deadly blast on the Crimean Bridge last October, the head of the country's security service admitted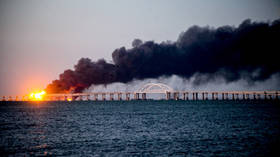 The head of the SBU, Ukraine's main intelligence and security agency, Vasiliy Malyuk, has claimed responsibility for the deadly terrorist attack on Russia's Crimean Bridge last October. The spy chief made the admission on Wednesday during a televised ceremony to unveil a new postage stamp dedicated to the SBU.
"The destruction of the Crimean Bridge is one of our realizations. I am convinced that the unique special operations carried out by the SBU will give stories for new postal stamps," Malyuk stated.
The ceremony was attended by the head of Ukrpochta, Ukraine's national postal service, Igor Smelyansky, who was sporting a T-shirt with a photo of a freight train burning on the Crimean Bridge in the aftermath of the October attack with the caption: "Who will burn bridges if not us? SBU."
The Crimean Bridge was damaged in a truck bomb explosion last October, with several civilians killed and heavy damage inflicted on the structure. The attack was widely celebrated by top Ukrainian officials and citizens alike, with Ukrpochta releasing a commemorative stamp to mark the occasion within hours after the blast.
However, Kiev fell short from claiming responsibility for the blast, which Moscow described unequivocally as a "terrorist act." Early in July, Ukrainian Deputy Defense Minister Anna Maliar implicitly admitted Kiev's role in the attack, releasing a list of the country's'achievements' in the ongoing conflict. Among other things, the list marked "273 days since the first strike was conducted on the Crimean bridge to break the Russian logistics."
The bridge, which was fully repaired after the October explosion, was damaged in a new attack on July 17. According to the Russian authorities, it was targeted by two sea drones launched by the Ukrainians. The explosions left the road section of the bridge damaged, as well as killed a Russian couple and left their now-orphaned 14-year-old daughter seriously injured.
You can share this story on social media: